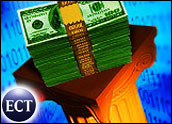 Giving Internet-based television another boost, former Walt Disney CEO Michael Eisner and media giantTime Warner have both invested in a startup that aims to build a delivery platform for IPTV.
Eisner will also take a seat on the board of directors of Veoh Networks, which has raised US$12.5 million in a second round of venture financing. He will be joined there by venture capital legend Todd Dagres from Spark Capital, a venture firm that took part in the funding round.
A Plan for Everyone
Eisner invested through his Tornante Company. How much he contributed to the round was not disclosed.
San Diego-based Veoh Networks is building a system for delivering broadcast-quality entertainment and informational content via the Internet, using distribution technology the firm says will allow for unlimited capacity. Veoh envisions marketing its platform to everyone from independent video producers and hobbyists to large studios.
"Cable and satellite fundamentally changed the way television was distributed by creating the capacity for greater choice in programming. Veoh revolutionizes television again by leveraging the Internet to expand broadcast capacity to the point that every single user, whether an individual or a media company, can create their own 'channel,' and every 'channel' can be supported by its own business model," Eisner said. "In the past, distributing television programming required an enormous broadcast infrastructure."
Currently, Veoh is available in beta form and features mainly peer-submitted videos, including live-action short films, game shows and animated programs. Many can be viewed without watching advertising, although that is likely to change over time.
Video to Go
The democratization of video distribution is one of the holy grails of the evolving Internet, with the ability to create hyper-personalized content channels leading to greater opportunities for targeted marketing.
Veoh's "network" will include a Web-based catalog of video, previews and a community component. Users will be able to watch their downloaded video in full-screen quality on PCs, TVs or handheld devices such as iPods and PlayStation Portables.
"Video delivery over the Internet is not a new concept, but the ability to deliver long-form, high definition programming and provide interactivity and community is an important differentiator," said Rachel Lam, group managing director of Time Warner Investments, the venture wing of Time Warner, whose holdings include Web portal AOL, movie studios and TV networks.
"Veoh's unique combination of technologies creates a strategic content distribution platform as well as the opportunity to greatly enhance the consumer's experience with Internet-delivered video," Lam said.
Veoh wants to extend the Web's ability to let anyone publish content via a blog, for instance, to high-quality video.
The firm is far from alone in its efforts to build a distribution platform for IPTV. Across the country in Cambridge, Mass., another startup, Brightcove, is developing its own streamlined video publishing platform. In a sign that investors may be hedging their bets somewhat, that company counts AOL among its investors; the portal sank $16 million into Brightcove last fall.
Established companies are also in on the IPTV movement, with Microsoft recently signing a deal to have its IPTV software and related technology used by Deutsche Telekom. Video search specialist Blinkx last year launched a service to let users publish video to the Web, as has Google.
Matter of Time
Plenty of challenges remain, including potential roadblocks put up by the owners of the largest broadband networks, such as cable companies and telecoms, which may want consumers to purchase video directly from them — and which may have the right to refuse to allow certain content onto their networks. Attempts by lawmakers to pass legislation requiring network neutrality have failed so far.
Using viral and homemade video is seen by many as a way for Veoh and others to prove their technology and also to build demand for more online video among consumers.
"The market is still very much in its beginning days," Will Richmond, president of research firm Broadband Directions, told the E-Commerce Times. The recently crossed threshold of 50 percent broadband penetration has helped bring more venture funding and attention to the market, he added.
"We're still in the stage where different business models and technological approaches are being tested out," Richmond said.