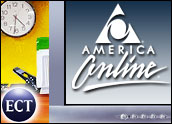 In one of the first major efforts to bring an ad-supported broadband television experience to Internet users, America Online formally launched its In2TV service, with four major advertisers already signed up to have their commercials interspersed with the full-length programs and short video clips.
AOL said Intel, Kia Motors, Kraft Foods and Hershey will run ads to sponsor shows on the site, which will offer video downloads at no cost to consumers, drawing on the Warner Bros. catalog of classic TV shows that AOL has access to through parent company Time Warner.
Blast From the Past
In2TV will feature 70s-era TV programs such as "Welcome Back Kotter" and "Alice," full-length dramas and other programs culled from the WB archives.
The ramifications of the service go well beyond the programs being offered, however. In fact, the most important aspect of the launch, which was hyped with an appearance by "Welcome Back Kotter" star Gabe Kaplan at the Museum of Radio & Television in Los Angeles on Wednesday — a venue chosen to emphasize the evolution of the Internet as a video delivery channel — may be that such high-profile companies are eager to test online video as a marketing vehicle.
"In2TV breaks new ground as the first true broadband television network," said AOL Executive Vice President Kevin Conroy. "In2TV will appeal to existing fans as well as introduce these shows to a whole new generation."
AOL was widely seen moving to the front of the pack of Web companies chasing the online video market when its simulcast of the Live 8 concerts drew millions of viewers and won high marks for streaming video quality and reliability.
That and its Time Warner connection may make it a favorite in the race to be the Internet provider that delivers multi-media content — and the high-value advertising that goes along with it.
At Long Last
In fact, the Web TV foray is perhaps the most tangible example of the synergies envisioned by those driving the landmark merger of America Online and Time Warner some six years ago, a deal that Time Warner has often sought to undo in several ways since.
Now, AOL is racing other online companies, notably Yahoo, Microsoft and Google, to be the lynchpin for Web video search and transmission. While the rivals have worked to create video search tools — Google has been collecting user video for nearly a year now to refine its video search — AOL is seen having an edge thanks to its content ties to Time Warner.
Kevin Tsujihara, president of the Warner Bros. Home Entertainment Group at Time Warner, said the Web site "begins to realize the true potential of Web-based TV." Users will turn to the on-demand delivery of the Internet, he continued, which can put "the viewer in charge of their own TV schedule online."
"This opens up new opportunities for platforms and program distributors alike and points to the prospect of exciting new paradigms in online and interactive entertainment soon to come," he added.
AOL said earlier this month it would start to add pay-per-download content to its site as well, with that option most likely to be available on fresher and more in-demand content.
AOL's already impressive turnaround story from dying Internet service to a Web portal that can compete with Yahoo and Google could be accelerated by the arrival of video, Forrester analyst Charlene Li told the E-Commerce Times.
Li noted that Yahoo has spent several years striking partnerships with Hollywood studios and others, efforts aimed at garnering access to the exact type of content that AOL's parent company already has in abundance, from current and classic TV shows to movies and news programs.
"This is one of AOL's main advantages," she added.
Time Will Tell
The arrival of major advertisers, however, may be a signal that the free distribution model can work, with advertisers at least eager to find out what value the medium will have for their marketing messages.
AOL said it had already met initial projections for ad sales on the site, which offers content divided into various channels covering comedy, drama, action, sitcoms and science fiction and horror.
The potential for advertisers is a key element for the overall expansion of Internet Protocol TV (IPTV), but not as critical as the reaction of the public, with some questioning whether people really want to watch longer video clips on their PCs, Kelsey Group Managing Director Greg Sterling said.
"It's quite easy to see how contextually relevant, behaviorally or location-targeted ads can and likely will be built around this," Sterling noted. "What will be important is how the public reacts to the content and uses the site."