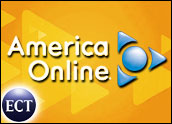 Time Warner said it officially changed the name for its Internet service and portal, saying America Online will now be known by its longtime nickname, AOL.
The America Online moniker is being retired after some 15 years, during which time it became synonymous with Internet access for millions of people. Time Warner noted that people have been using the shorthand to refer to the service for some time.
Familiar, Friendly
"Our new corporate identity better reflects our expanded mission — to make everyone's online experience better," said Jon Miller, Chairman and CEO of AOL. "Plus, consumers in the U.S. and around the world already know us by our initials."
Along with the name change, AOL said it was changing its legal structure from a corporation to a limited liability company, or LLC. That move enables Time Warner to limit its exposure to liability should the subsidiary be the subject of lawsuits.
It also unveiled a new logo, setting aside the America Online "running man" for a triangular logo.
The passing of the America Online name ends a long and varied chapter in the history of the Internet in the U.S., one that began long before the dot-com boom, rose to prominence through the merger with Time Warner, fell on hard times when it failed to embrace broadband access soon enough and more recently has staged an impressive comeback as an open-to-everyone portal.
Cutting Ties
The America Online name came about as a result of an employee naming contest staged in 1991 when the company was known as Quantum Computer Services, Inc., the name it bore since its founding in 1985.
Taking the "America" out of its name makes sense for a company that has global reach and for other reasons, including the company's push into mobile Web access, where the three-character domain name is a benefit.
In fact, the announcement of the name change came as AOL was launching an upgraded mobile browsing service that would convert Web pages to a mobile-device friendly format and simplify the process of searching for Internet-based information on the go.
While AOL said the name change would help reflect the new range of services that it offers to Web users, ditching the name is also a way to break with the past, including the long slide in membership that AOL has suffered, shedding nearly 30 percent of its subscribers since mid-2002.
It also gives AOL a chance to move away from America Online's oft-criticized marketing habits, most notably its practice of sending millions of CDs loaded with AOL service and software. The company sent an estimated 660 million discs to U.S. households during its direct mail campaign.
New World Order
The name change caps a massive makeover for the Internet service turned portal, one that has seen it shed its walled-in approach where services were available only to paying subscribers to a free-for-all portal.
That transformation came at a fortuitous time, as Internet advertising has hit a growth spurt. AOL has benefited directly — recently signing major advertisers for its new online TV channel, where Time Warner content is available for download — and indirectly, through its recently consummated partnership with Google.
AOL is well-equipped to be a major factor in the evolving portal race, Forrester analyst Charlene Li told the E-Commerce Times. It will give Yahoo and MSN a run for its money by leveraging its strong brand and its ties to Time Warner, with its wealth of video and other content, she added.
"AOL is already the comeback kids of the Internet space and they are positioned to be a factor," Li said. "With their content and advertising partnership possibilities with Time Warner, they could be a formidable force."