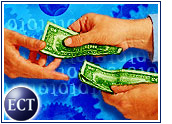 In what is being billed as the largest one-time investment of private equity in a technology firm, a leveraged buyout group led by two Silicon Valley venture capital firms has agreed to buy EDS' product design software business for US$2.05 billion in cash.
The business, UGS PLM Solutions, develops software that helps companies design new products from concept through manufacturing. UGS has about 42,000 customers and recorded sales of just under $900 million in 2003. It has been an engine of growth at EDS, with sales climbing 14 percent in the second half of last year, according to the company.
The buyout group includes legendary Silicon Valley venture firms Silver Lake Partners and Warburg Pincus, both of which call Menlo Park, California, their homes, plus Boston-based financiers Bain Capital. The investors said they intend to keep the business intact, with current president and CEO Tony Affuso remaining at the helm.
Back to Basics
The selloff is designed to enable EDS to reduce its debt load and turn its full focus to its technology outsourcing business. EDS was a pioneer and longtime leader in the outsourcing sector, but it has seen its business erode as rivals, including IBM and Hewlett-Packard, have beefed up their offerings and targeted some of EDS' core clients — government agencies and large organizations such as U.S. automakers.
The business also has been operating under a cloud since a federal investigation into its handling of financial reporting was launched two years ago. More recently, the inquiry extended to cover details of an ongoing contract with the U.S. Navy. EDS won that contract in 2000 to build an intranet for the Navy and Marine Corps, a deal that is now said to be worth some $8.8 billion and that EDS has said was spinning out of control at times.
Rumor Mill
In recent weeks, IBM and EDS have been linked as possible merger partners. IBM's services unit is about twice the size in terms of annual sales of EDS.
According to IDC analyst David Tapper, the overall shift to on-demand computing that IBM and HP are pushing could cost EDS additional market share over time.
"On-demand services are a direct threat to the traditional outsourced IT model that EDS really built its reputation on," Tapper told the E-Commerce Times. "There's an overall shift that's taking place. Companies with those strategies already in place are going to have more success."
Big Names
Warburg Pincus' investments already include Veritas Software and BEA Systems, while Silver Lake Partners counts Ameritrade, MCI and Business Objects among its portfolio companies.
Warburg Pincus president Joseph Landy said the spinoff of UGS will enable that company to reach its full potential and continue to grab market share in what analysts say will remain a fast-growing segment of the software industry.
For its part, Boston-based Bain Capital has invested in dozens of technology companies, often helping companies make the transition from privately held to publicly traded.
On the IPO Trail?
Some analysts speculated that the nature of the company's buyers suggested it would either be set on a path for an eventual initial public offering or dangled as a takeover target for other buyers, such as IBM, which has its own line of product-design software tools.
"A spin-off IPO is difficult to pull off" because investors cannot always separate the parent company from the subsidiary being taken public, UBS analyst Christopher Dixon told the E-Commerce Times. "It's much easier for a company that's operating on its own, putting up its own numbers, to get the attention of underwriters and investors."
If the software unit continues to deliver the type of growth it saw last year, operating it independently for six months or a year could position it for a strong offering if the markets are receptive, Dixon added.