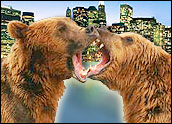 Auction giant eBay has stopped buyingGoogle AdWords in apparent retaliation for a now-canceled event meant to build support among eBay sellers forGoogle Checkout — a sign of the increasing tensions between the Internet competitors.
The spat reportedly began when Google last week announced it would hold an event that coincided with the beginning of eBay Live, the annual gathering of eBay sellers and devotees taking place in Boston this year.
The Google gathering was aimed at encouraging eBay sellers to demand the auction site allow the use of Checkout, Google's online payment service. eBay strongly urges its sellers to use itsPayPal service as the preferred option for closing auction and fixed-pricesales and has not opened the site to Checkout.
Shifting Ad Spending
eBay confirmed that it had shifted ad spending away from Google AdWords, the search giant's paid keyword program, but billed the move as part of an "ongoing experiment" to test various advertising options and occasionally change its mix of media buys.
The timing suggests eBay was upset about Google's event, called the "Google Checkout Freedom Party."
eBay reportedly pulled its ad purchases by Wednesday morning. Later that day, Google canceled the planned event in Boston through a blog post from Google Checkout Team member Tom Oliveri.
"eBay Live attendees have plenty of activities to keep them busy this week in Boston, and we did not want to detract from that activity," Oliveri wrote. "After speaking with officials at eBay, we at Google agreed that it was better for us not to feature this event during the eBay Live conference. Google is constantly reaching out to new users and sellers, and we are available to privately discuss any matters of concern with individuals as they relate to Google products."
The eBay-Google partnership — Google also delivers ads to overseas eBay sites — has long been rife with tension, with each company eying many of the same online opportunities.
For instance,Google Base competes withCraigslist, the funky classified site that eBay has invested in, and Google Checkout was initially viewed as a PayPal-killer.
eBay has partnered extensively with Google rival Yahoo, striking a multiyear deal last spring that called for the two to work more closely together in other areas as well, with theYahoo Wallet service using PayPal and with cooperation around new technology to take advantage of eBay'sSkype Internet calling service.
Freedom Rings Hollow
Google had hoped to use the concentrated gathering of eBay devotees to build support for Checkout, apparently seeking to create grassroots support for opening up the auction site to the payment alternative, which lets shoppers store credit card information and use a simple log-in and password to make payments to merchants across the Web. Google invited eBay sellers to board a trolley and travel to an important site in pre-Revolutionary history, the Old South Meeting House, for the shindig.
"We'll use the same spot where revolutionaries launched the Boston Tea Party to celebrate freedom with free food, free drinks, free live music — even free massages," Google wrote in an invitation posted to the Google Checkout blog.
eBay Live attracts scores of vendors who sell services and products to eBay users — such as automated auction programs and items to support their businesses. However, the event is mainly a chance for eBay to foster a stronger sense of community among its users. The company treats attendees to entertainment, motivational speeches and a keynote from CEO Meg Whitman.
Partners in Time
eBay is the largest single AdWords customer in the U.S., according to both comScore and Nielsen//NetRatings; comScore estimates that eBay spent nearly twice as much as the No. 2 AdWords customer, Target.
eBay spends around US$25 million a quarter on AdWords, RBC Capital Markets analyst Jordan Rohan writes in a research note — a fraction of the $3.7 billion in revenue Google raked in last quarter — the vast majority of it from paid search listings.
Still, the tiff is heavy with symbolism, especially since Google has claimed that its Checkout service was not meant to compete directly with PayPal, which specializes in small payments and those between individuals, rather than those between consumers andmerchants, said search expert John Battelle.
Meanwhile, eBay may get as many as 12 percent of its visitors through Google searches each month, Battelle told the E-Commerce Times, suggesting a codependence that eBay may have been trying to break with the Yahoo deal.
In some ways, all of the major Internet companies have been converging on the same, increasingly crowded turf, Forrester Research analyst Carrie Johnson told the E-Commerce Times.
Where once there were "bright lines" dividing major Web companies, she noted, eBay moved into Amazon's fixed-price retail world, while Google built itself up into more of a portal to compete with Yahoo and AOL and added the payment function, which put it on a collision course with eBay.
The potential for clashes has grown as each company has moved into new areas through acquisitions, as well. "A lot of the partnerships now in place date from a time when there was much less overlap and direct competition," Johnson said.