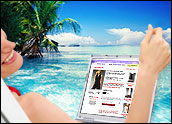 Google shook up the e-payment market last summer with a ballyhooed entry into this space with its Google Checkout service. While many positioned the move as a salvo against eBay and its PayPal subsidiary, traditional banks may have more to lose if Google is successful as the Internet increasingly reshapes how financial transactions are completed.
"Google never makes a strategic move for one reason; any move has to have a number of potential benefits in order for the company to make it, and that is the case with Google Checkout," said Greg Sterling, founding principal of Sterling Market Intelligence.
Of course, the main reason e-payment systems have been gaining interest is because they make e-commerce purchases easier for consumers and merchants. Now if a customer buys five things from five merchants, he has to fill out five different forms, which can take several minutes each.
Streamlining the Process
Online payment systems transform that final step with a simple click of a mouse. A simpler system would improve merchants' businesses, as they have to insert complex verification steps for electronic payments, items that require a great deal of time and effort, causing a lot of customers to abandon shopping during the payment process.
Google's service was designed to streamline the payment process. It allows consumers to store — in a new version of an online wallet — their payment and shipping address information and access it through their Google email log-ins and passwords. Thus, consumers avoid having to re-enter credit card numbers and other personal data each time they make a purchase. In addition, the system allows customers to monitor their spending activity and the status of their pending orders.
"Google has tried to make it easy for merchants to add Checkout to their Web sites," said Google watcher Stephen Arnold, president of ArnoldIT.com. In fact, merchants have a couple of ways to integrate their e-commerce sites with Google Checkout.
At the simplest level, a company can include Checkout "Buy" buttons by pasting HTML code into their Web pages. In addition, Google published its application programming interfaces (APIs) for use by those merchants desiring more sophisticated integration.
Google also tried to leverage some of its other successful products to wedge its way into the e-payment market. Shopping cart icons are displayed in the ads of AdWords clients, so consumers know that they can use their Google Checkout account to pay for any purchase.
Google applies a merchant's AdWords spending toward Checkout processing fees and offers its retailers discounted rates. If a retailer does not use AdWords, Checkout fees amount to approximately a few cents for each transaction, plus a 1.5 percent of the total of each transaction's total.
While Google has a well known brand, it may have difficulty making headway in the e-payment market. PayPal has done quite well, with more than 105 million account holders, far and away the market leader.
Security Issues
Naturally, security is a major issue in this space. PayPal has put a number of checks in place to make sure that its clients are not victims of phishing or pharming attacks.
Meanwhile, "Google's risk management experience is limited and its learning curve is likely to be steep," said Christophe Uzureau, a principal research analyst at Gartner.
Google is wading into new territory. "Google now will be a middleman, and have to mediate disputes between consumers and merchants," Sterling Market Intelligence's Sterling told TechNewsWorld. "That represents a new area for the company, one where it may encounter growing pains as it gains needed expertise."
Google Checkout is not widely available. Initially, the service was limited to the U.S. but has been broadened to the UK. As the company works through language barriers and financial regulations, it is expected to spread to other countries.
E-payment services are not new. ePayment Solutions, GECAD ePayment, Intellipay and Neteller carved out viable e-payment businesses. However, countless other vendors entered and exited the market as many consumers didn't have a compelling reason to use the services, merchants balked at the added expense and vendors could not figure out how to turn a profit in this space.
Competing With Banks
While Google's entry into the e-payment arena is widely viewed as a shot at PayPal, ArnoldIT.com's Arnold has a different take: "Google got to where it is today by thinking outside of the box. The company expects the nature of financial transactions to change dramatically in the coming years. It wants to transform traditional forms of commerce into Google dollars and create its own virtual economy for consumers and merchants."
Indeed, e-payment providers have been encroaching on traditional financial institutions' territory. They have been able to introduce highly disruptive pricing models, which have fostered a growing uneasiness among merchants.
"Google and PayPal [are] offering added-value services on top of payment services, so their threat to banks is not limited to depressed transaction fee revenue, but also represent a challenge to the distribution of financial products and services as a whole," Gartner's Uzureau told TechNewsWorld. In fact, it is becoming increasingly difficult for banks to reach younger customer groups, because one of their first financial services experiences is likely to be with an e-payment provider.
While no one is sure at this juncture how Google will fare in its new venture, its e-payment initiative seems important to the company. "Google has given Checkout a high profile, which is a bit unusual because it often undersells its new campaign," concluded Sterling. If it is successful, banks may eventually be handing out Google dollars as well as crisp green bills to their customers.