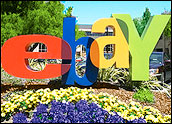 Web auction giant eBay posted strong first-quarter results Wednesday despite weaker-than-expected growth in buying activity in core markets such as the U.S. and the UK.
eBay posted net income of US$460 million, or 34 cents per share, up 22 percent from the $377 million it earned in the same quarter in 2007. Revenue was up 24 percent to $2.19 billion. Excluding one-time charges, eBay earned 42 cents per share, well ahead of the 39 cents called for by analysts.
Investors sold off eBay shares — which have rebounded some 15 percent in the past three months on expectations that efforts to revive auction growth would pay off — as they focused on the fact that the number of active users was up just 1 percent from the previous quarter, while listings were up 4 percent to 588.5 million, below the 5 percent target of analysts.
Encouraged by Results
The economy may be catching up to eBay as well, with Chief Financial Officer Robert Swan saying the company saw "a slowing in the buyers' propensity to buy towards the end of the quarter."
Still, eBay CEO John Donahoe said the company was encouraged by the results, especially since they came at a time of uncertainty about the consumer in the U.S. and other key markets. eBay slightly upped its forecast for profit for the current quarter as well, though the raised targets are about in line with those analysts had previously set.
"We are encouraged by what we are seeing," Donahoe commented. "I feel very good about the direction we are headed."
eBay shares were down almost 5 percent in morning trading Thursday to $30.68. eBay helped its own stock price lately, disclosing Wednesday that it had spent around $1 billion to acquire 37 million shares of its own stock during the quarter.
Mixed Bag on Expectations
For the second quarter, eBay forecast revenue $2.1 billion to $2.15 billion; for all of 2008, eBay predicted revenue of $8.7 billion to $9 billion, above the average analyst forecast.
The quarter is being closely watched as the first reporting period since Donahoe took over from longtime CEO Meg Whitman, said American Technology Research analyst Tim Boyd.
The marketplaces division of the company — which consists of eBay, Shopping.com, StubHub, Kijiji and other e-commerce sites — grew 19 percent, with $1.48 billion in revenue. Gross merchandise volume (GMV) rose 12 percent to $16.04 billion during the quarter, but U.S. and UK GMV rose by a more modest 7 percent.
eBay's extensive efforts to restructure listings fees and make other strides to make the auction platform more secure and reliable helped boost listings, Boyd told the E-Commerce Times. At the same time, eBay has long maintained that its business is aided by recession or economic slowdown as consumers seek out more bargains.
"The expectations that the auction business will accelerate growth move into the current quarter," he noted, adding that eBay's other businesses and the favorable exchange rate caused by the weak U.S. dollar helped keep the overall results largely upbeat.
eBay's Skype unit — which the company took a heavy charge against last year to reflect its lower value — had a strong quarter, with revenue growing 61 percent year-over-year to $126 million.
PayPal was also a star for eBay, handling $14.4 billion worth of payments during the quarter, or about 9 percent of all the e-commerce worldwide.
PayPal is "a gem of a business" that "remains on a fantastic trajectory," Donahoe said. "I believe 2008 will be PayPal's best year yet."
Getting Buyers Buying
After focusing on drawing sellers back, eBay is about to launch an effort to driver buyer traffic to its sites, Donahoe noted, including an advertising campaign to focus on the recent changes, such as search improvements and tools to prevent fraudulent auctions. "The early data we are seeing is that buyers are noticing the changes."
While some of the divisions are doing well, it remains to be seen if Donahoe can knit together the pieces that were assembled under Whitman, when eBay acquired PayPal and Skype, Forrester Research analyst Carrie Johnson told the E-Commerce Times.
"The idea was that the other pieces would support the growth of the platform," she said. "Right now, there's growth in those newer businesses, but whether it all comes together is still an open question."