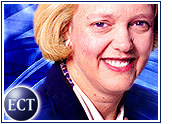 Shares of eBay, Inc. (Nasdaq: EBAY) surged 10 7/8 Wednesday to close at 76 9/16 after company executives presented analysts with ambitious plans to grow close to 50 percent each year and achieve revenue of $3 billion (US$) by 2005.
The gain will be accomplished "while maintaining profitability as a cornerstone of our strategy," said eBay president and chief executive officer Meg Whitman.
eBay is one of the few profitable Internet companies. In the second quarter, eBay beat analysts' expectations for growth, posting net income of $11.6 million, or 4 cents per share, on revenue of $97.4 million.
'Enormous Market Opportunity'
The online auctioneer said it based its $3 billion revenue goal on the size of the potential markets for its service, including collectibles, computers, used autos and auto parts, as well as "the continued strength of its proven global business model." The company pegged the size of its potential markets at $1.6 trillion currently and $2 trillion by 2005.
"eBay is uniquely positioned to capitalize on an enormous market opportunity," said chief operating officer Brian Swette. "We have an exciting, globally recognized brand, a solid technology platform and an organization committed to our users' success."
Growing at Home and Abroad
eBay executives outlined the company's plans for growth, which include growing internationally as well as at home.
In the U.S., eBay plans to increase its share of the collectibles market from the current 2 percent and its share of the market for "practical items" like consumer goods from about 1 percent.
"We see tremendous opportunity to extend the platform," said Jeff Jordan, senior vice president for the U.S. division.
Overseas, eBay expects to be in 10 countries by the end of next year and 25 countries by the end of 2005. The company has sites in the UK, Canada, Germany, Japan and Australia, and is trying to keep its lead over European competitor QXL.com (Nasdaq: QXLC), which is also expanding.
Program for Developers
Maynard Webb, who heads eBay's technology group, said the company is testing a new program designed to provide third-party developers with open, standardized access to the site. The program will be available starting in the fourth quarter of this year, eBay said.
eBay, which pioneered the online auction concept, is the world's largest Internet auction company. The company acquired Half.com, a fixed-price auctioneer, earlier this year and expects the market for fixed-price trading to grow as well.
Despite Wednesday's surge, eBay shares closed at 71 3/16 Thursday.