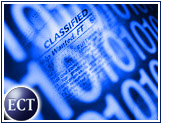 Looking to extend its reach to a new audience of potential customers, eBay (Nasdaq: EBAY) announced Friday that it has launched a new service to allow newspaper readers to search their local print edition for items posted on the Internet auction heavyweight's site.
As part of the program, sellers who have placed goods on the online auction block also will be given the option of advertising their merchandise through a branded eBay section in local newspaper classifieds.
The San Jose, California-based company said that sellers can include product information, item number, title and starting bid price in the listings, and create customized ads promoting their eBay user identification numbers. Interested buyers, however, will only be able to place bids online.
"We believe eBay Seller Classifieds will be a valuable tool for our sellers to market their items to even more potential buyers," eBay global marketing senior vice president Bill Cobb said. "Now buyers have a way to browse eBay listings before turning on a computer."
Going Local
Although the service is currently being offered only in the Minneapolis-St. Paul (Minnesota) Star Tribune, eBay said it will soon extend the program to Florida's St. Petersburg Times.
The auction giant said it will determine further expansion plans based on user adoption in these two markets.
"The synergy created by using both our online services and our newspaper makes it easier for the consumer to find eBay listings," said Star Tribune interactive media vice president Nick Rogosienski.
Classified ad placement firm AdStar.com will be collecting and distributing the ads to participating newspapers.
Multimedia Branching
eBay's foray into the print marketplace is not its first stab at media convergence. Last fall, the company confirmed that it was in discussions with the major U.S. television networks to create a show featuring the site's products and the people who put them up for auction. At the time, ABC reportedly was a frontrunner in the negotiations.
The auction giant already is one of the strongest performers in any corner of the e-commerce space.
In late April, eBay reported record revenue of US$147 million for the first quarter, a 90 percent jump from the year before, and said that it could outpace earlier estimates for the rest of 2001 by as much as $15 million.
Meanwhile, eBay's chief financial officer said earlier this week that it is poised to triple its share of the addressable online market, predicting that the company will be responsible for facilitating the sale of $30 billion worth of goods by 2005.