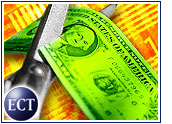 Prices for consumer collectibles on leading person-to-person auction site eBay (Nasdaq: EBAY) have dropped an average of 25 percent in the past year, while at the same time the number of listings has increased, according to a report released Thursday by AuctionBytes.com.
AuctionBytes president David Steiner told the E-Commerce Times that the trend "happened to lay itself out in front of us" as the Natick, Massachusetts publisher of auction newsletters compared data from May 2000 with current eBay listings.
"As we did the data, it became very apparent that the number of listings has increased dramatically in the past year," Steiner said.
At the same time, however, prices dropped between 9 and 33 percent, he added.
eBay spokesman Kevin Pursglove told the E-Commerce Times that the report is misguided and that by all accounts — both internal and external — prices are rising on eBay.
"They've done a very poor job of attempting to address what they believe the issue to be," Pursglove said. "What eBay creates is a marketplace. The function of that marketplace is to determine at what price certain items sell. The point the report maintains– that prices are down — is just innacurate."
Collectibles Only
Steiner said that AuctionBytes' comparisons were done on consumer collectibles and did not encompass electronics and other items or fixed price sales, which have become a growing part of eBay's business.
AuctionBytes had collected the year 2000 listings for another project, Steiner said.
"This type of comparison data is hard to come by," he said.
Crystal Clear
As an example, AuctionBytes cited listings and prices on Swarovski Crystal items. In May 2000, 1,314 items were listed for sale on eBay with an average sale price of just over US$51.
This week, however there were approximately 8,000 items listed for sale, with an average price of $39.
"It's pretty basic economics," Steiner said. "When something is flooding the market like this, the prices are going to go down."
Sellers Frustrated
The likely losers in this evolution are sellers of collectibles. When combined with recent eBay listing fee increases that took effect earlier this year, the price drops might be enough to prompt some sellers to turn to niche sites focused on their specialty item or even form sites of their own.
"In the past six months, the idea of a seller's cooperative has really picked up steam," Steiner said. "I think you'll see more of that kind of movement."
eBay OK
As for eBay, the financial impact of the reduced prices is minimal, Steiner said, largely because the auction site has taken bold steps to embrace business-to-consumer (B2C) auctions and fixed price e-tailing.
In fact, an eBay executive said Tuesday that the auction site would triple its share of the e-commerce market in the next four years, a strategic move fueled largely by a shift away from consumer auctions on low-priced goods.
"What is means for eBay is nothing much," Steiner said. "They'll continue to be successful."