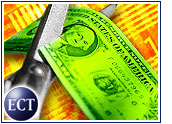 E.piphany (Nasdaq: EPNY) was down US$1.75 at $8 in morning trading Tuesday, after lowering its outlook for the first quarter ended March 31st.
The San Mateo, California-based maker of customer relationship management (CRM) software said it expects a loss of 40 cents per share, before amortization of goodwill and stock-based compensation, on revenue of about $38 million.
In the same period last year, E.piphany lost 11 cents per share on revenue of $14.4 million.
"The shortfall is primarily due to longer sales cycles caused by the continuing economic uncertainty in North American markets," said president and chief executive officer Roger Siboni.
Analysts at First Union, Merrill Lynch, Legg Mason, UBS Warburg and Banc of America Securities all reportedly downgraded E.piphany shares following the announcement.
"Customers are continuing to view CRM software as a strategic component of their IT infrastructure, but delays in spending have resulted in lower visibility for the second quarter and full year," Siboni said.
The company, he added, remains "committed" to reaching a profit in the fourth quarter of this year.
"The strength of our balance sheet, the quality of our new and existing customers, and our current pipeline activity gives us confidence in the long-term health of our business," Siboni said.
E.piphany said that it is giving employees the opportunity to cancel their previously issued stock options in exchange for an equal number of new options to be granted later this year. The new options will have an exercise price of the fair market value of E.piphany shares as of the date they are issued.
E.piphany shares have fallen from a 52-week high of $98.12 set in July.