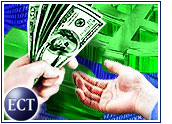 Of everything e-commerce participants have learned so far, one rather retro lesson has taken on new meaning:
There is no such thing as a free lunch.
Or free anything else, for that matter. Although Internet users used to love and even expect free connections, shipping, e-mail and other assorted products and services, it was a primitive notion to count on something for nothing.
Online business owners learned this lesson the hard way. Exhibit A: Kozmo.com, the late great delivery service that finally collapsed, partly because it started charging for its services way too late.
As is the case with so many other elements of online commerce, free stuff seems to have been a product of the often idealistic pioneer spirit of early Internet entrepreneurs.
However, once they learned the cost of doing business online and the challenge of even attracting consumers to take a look, the concept of giving anything away began to seem somewhat ridiculous.
The Refugees of Free
Of course, many (most?) of those early adventurous types who thought they would change the world with a mouse have now disappeared into the ether.
One friend of mine, who four years ago started an extreme sports Web site, now works at Home Depot. Another acquaintance who thought her ticket out of elementary school teaching was moving her life to Dot-Com Nirvana — the Silicon Valley — now teaches first grade in the Silicon Valley.
Those who remain in e-commerce have had to try to figure out how to change the mentality of the consumer base from one of entitlement to one of pay-as-you-go.
It's not an easy proposition to convince people to pay for something they once got for free.
What Works
Rule No. 1 in making the transition is pure common sense. Make sure that if you ask consumers to pay for something that once was free, you include some added value in the deal.
If that comes in the form of something tangible, great. But if it does not, it needs to take the form of added convenience, speed of delivery, or even quality of service.
Rule No. 2: No surprises. The public does not like surprises. So if you have a need to start imposing a fee on your product or service, bite the bullet and give it some time.
First, gently break it to your consumer base that there will be a price tag associated with your product, and let them know when it will begin. In almost the same breath, cushion the blow to their pocketbook with the above-mentioned and altogether necessary added value.
Size Matters
Sometimes, how well-established an online company is will play into how well the public accepts increased or new fees.
For example, when America Online (NYSE: AOL) raised its basic monthly rate from US$19.95 to $21.95, as a consumer I didn't like how sudden the increase was. However, having used AOL successfully since 1996, I retained my membership.
Likewise, when Consumer Reports Online charged me $24 for an annual subscription, I paid it without blinking an eye because I trust the company and I feel a need for the service.
However, when an online writers' listserv that I have belonged to for four years sent me an e-mail informing me that there would now be a membership fee, I quit. Why? Because I can go other places online to find all the same information I glean from the listserv.
What works for larger, well-established online companies does not necessarily work for all.
All About Timing
Timing is tricky in e-commerce. Knowing when to introduce a new service, new product, new Web site layout or even a new company name is often half the battle. But the timing of introducing fee-based services to your business model is especially crucial.
Are you forging new ground or have your competitors already started charging? That makes a difference.
Have you established enough of a need for your product in the marketplace yet, or is the public still skeptical? If consumers don't need what you're offering, what makes you think they will suddenly pay for it?
Have you sampled the market with focus groups, surveys, and so forth? If you have and the market seems viable, go for it. You'll have to charge eventually to stay alive, so if the timing seems right, now is probably better than later.
Baby Steps
Finally, if possible, test the waters by charging for a portion of your product or services, but not the whole thing.
BlueLight.com essentially followed this path, first reducing its free Internet access offerings, and then announcing Monday that free service would be discontinued altogether.
If consumers react positively and seem willing to pay, take that as a good sign. Pretty soon "free" will be obsolete in electronic commerce, as it should be.
What do you think? Let's talk about it.

---
Note:
The opinions expressed by our columnists are their own and do not necessarily reflect the views of the E-Commerce Times or its management.
---