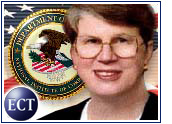 Hundreds of would-be satellite TV thieves who logged onto the Web to buy counterfeit satellite access cards instead bought themselves a whole lot of trouble, because the site was operated by the U.S. Customs Service as part of a sting operation.
Customs and the Department of Justice announced Tuesday that the 22-month sting, dubbed Operation Smartcard.net, had netted $516,000 (US$) for the U.S. Treasury and resulted in charges being filed against six individuals.
Four additional defendants have pleaded guilty to charges of violating laws protecting satellite television transmissions. The government said that the operation is ongoing and they expect to bring additional charges.
"In Operation Smartcard.net, Customs agents used an undercover Web site and sophisticated electronic countermeasures to defeat a new breed of criminal," Customs commissioner Raymond W. Kelly said. "They thought they got away without paying for satellite TV. Instead, these cyber-pirates will pay in a way they hadn't considered."
DirecTV Programming Stolen
Satellite television services like DirecTV provide subscribers with an access card that fits into the receiver and limits usage to services that the subscriber pays for.
By purchasing a modified or counterfeit card, subscribers can view satellite TV programming, including pay-per view programming, without paying the monthly subscription fee. Estimates place losses due to these cards at $6.2 million per year.
Reaction to Access Card Smuggling
The government investigation began in September 1998 after Customs agents in Blaine, Washington noticed a dramatic increase in seizures of pirated or counterfeit satellite access cards being smuggled into the U.S. from Canada.
Customs agents set up a Web site called TSS to sell counterfeit access cards, called "Eurocards." The agents did this with the help of DirecTV and NDS Americas, a "smart card" technology supplier that contracted with DirecTV to provide access cards that unscramble the DirecTV signal.
A warning on the Web site told would-be purchasers that "unauthorized use of access cards is illegal in the U.S."
Warning Ignored
By June 1999, when the Customs Service terminated the undercover portion of the operation, agents had sold 3,195 illegal cards to dealers and 382 cards to individuals, generating proceeds of more than $516,000, which have been turned over to the U.S. Treasury. The cost of the individual cards on the black market ranged from about $325 to $425.
In July 1999, DirecTV used technology to shut down the pirated cards sold through the government's Web site, as well as most other known pirated versions of satellite access cards. After the cards were shut down, Customs agents coordinated operations to execute search warrants and conduct interviews with more than 30 dealers who were targeted by the investigation.
Fines and Jail Time
Distributing electronic devices or equipment, knowing that the device or equipment is primarily used in the unauthorized decryption of satellite programming is a felony in the U.S, carrying a maximum penalty of five years in jail and a fine of $500,000.
The six individuals charged by the government with purchasing and reselling counterfeit access cards are: Dale Luster of Dallas, Texas; Kevin Greehey of Sarasota, Florida, Tony Zielenski of Dallas, Texas; Larry Thompson of Shingle Springs, California; Richard McCarty of Benzonia, Michigan and Ray Frost of Syracuse, Indiana.
The following individuals pleaded guilty: Michael Poulsen of Mountain View, California; Mohammad Walid of Yorktown Heights, New York; Linda Bauer of Hastings, Minnesota and Brian Angell of Warwick, Rhode Island.
"Buying and selling counterfeit products and services like satellite television access costs legitimate business and ultimately the consumer millions of dollars each year," Attorney General Janet Reno said. "There are many legitimate uses for the Internet, but carrying out schemes like this is not one of them, and we will continue to investigate and prosecute these cases."