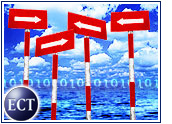 By now, things should be clearer. The shakeout should have left e-commerce neater and more orderly. A variety of companies should occupy various sectors, each with its own distinct reason for being, its own niche, its own special appeal to consumers.
But that hasn't happened. Despite all the upheaval that has taken place to date, it has not gotten easier for a consumer to navigate the e-commerce landscape. In fact, being plunked down in E-Commerce Land is a lot like being dropped off in an anonymous shopping mall.
You know the place: The food court is at one end, with anchor stores at the end of long corridors lined with pretzel shops and jewelry stores. Thanks to climate control, it's impossible to know whether you're in Florida or Minnesota.
There's a reason for that, of course. Stores want shoppers to feel at home even when they're away from home. But online, a mall in Minnesota is only a click or two away from one in Florida. Online, there should be more distinction between stores.
Distinguishing Features
Certain sectors have developed clear leaders that provide compelling reasons why consumers should choose them over their competitors. EBay is a strong example, since it is the clear-cut leader in the auction space.
Beyond that, though, it gets harder to discern not only which company is the leader in a particular space, but also why one should choose site X over site Y. Take electronics, for example. For a sector that has suffered a harsh beating, it still offers an amazing array of options to consumers.
But by its nature, selling electronics limits what a retailer can do. Price margins are not huge, so the price differential between sellers like Amazon.com, Buy.com and BestBuy.com isn't all that great. For instance, a Palm m100 recently sold for US$94.99 on Amazon and $94.95 on Buy.com.
Even Steven
With price out of the mix, what can serve as a basis for a first-time e-shopper's buying decision? Most sites present amazingly similar interfaces, with product pictures and descriptions that could be found at any electronics-peddling site.
That leaves word-of-mouth and brand identification. We know that giants win when it comes to brand, so word-of-mouth is apparently what is keeping some smaller sites in business.
The travel sector offers a good example. Ask the average consumer to tell you the difference between Travelocity and Expedia. Most probably will think about the last commercial they saw and drift toward Expedia.
But word-of-mouth likely is pulling them in a dozen different directions. CheapTickets? Hotwire? Priceline? The choices are dizzying. However, as someone who's sifted through them, I can attest that once you figure out how to navigate the various sites, you once again find surprisingly similar prices.
Breaking Free
So, what will it take to create some distinction? Time, for one thing. The clutter out there is nothing compared with the chaos of two years ago.
Another factor is leadership. For example, Amazon has said it will distinguish itself with low prices, but plenty of book and music sites are ready to see and call the e-tail giant on that bluff.
Amazon also deserves credit for leading with its free shipping offer, which several other e-tailers have recognized the need to match.
Choice is important, don't get me wrong. This isn't a call for vertical monopolies, by any means. But when all Web sites start to look and sound the same, it's hard to see how consumers can make sense of the online jungle.
In fact, the current state of confusion only fuels the likelihood that traditional retailers will win the day online with their brand advantage. After all, a confused customer is going to head for the comfort of the known quantity.
They'll revert to old habits and take a left at the pretzel shop — unless pure-plays give them a compelling reason to turn around and explore parts of the mall that are less familiar to them. It's not easy to get shoppers to change their habits, so dot-coms had better have some pretty neat tricks up their sleeves.
What do you think? Let's talk about it.
---
Note:
The opinions expressed by our columnists are their own and do not necessarily reflect the views of the E-Commerce Times or its management.
---