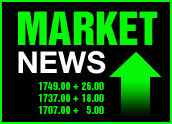 U.S. stocks fought off oil price worries and a negative report from Google to rise steadily Wednesday, with the Dow Jones industrials topping 10,000.
The Dow Jones industrial average closed at 10,083.15, up 110.32 points, or 1.11 percent, on a volume of 843 million shares.
The Nasdaq soared 36.12 points, or 2.01 percent, to settle at 1,831.37, and the Standard & Poor's 500 rose 13.46 points, or 1.24 percent, to end at 1,095.17.
Crude oil futures rose to $47.20 per barrel, before pulling back to $47.08, CNN reported.
Search engine company Google cut the range of its initial public offering, signaling weak demand and weighing on other tech stocks.
Still, all major indexes rose.
The 10-year Treasury bond advanced about 1/4, or $2.50 for every $1,000 invested, for a 4.22 percent yield.
The dollar rose to 109.35 from 110.05, as the euro fell to $1.2318 from $1.2352.
The Nikkei 225 added 48.29 points, or 0.5 percent, to end at 10,774.26, and in London the FTSE 100 closed at 4,355.20 after falling 3.50 points, or 0.08 percent.