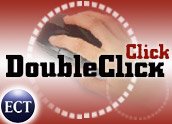 Less than six months after hanging out a for-sale sign, DoubleClick has agreed to be sold and taken private by a buyout firm that hopes to be able to squeeze more value out of one of the leading online advertising firms.
San Francisco-based Hellman & Friedman agreed to pay US$8.50 per share, or about $1.1 billion, for New York-based DoubleClick. San Diego-based venture firm JMI Equity will also take a stake in the new private company. The deal is expected to close by the third quarter, assuming shareholder approval.
Hellman & Friedman apparently outbid several other would-be buyers for DoubeClick, most of them also buyout specialists. The fact that interest in the firm ran high is not surprising given the resurgence in online marketing spending on everything from search marketing to more traditional banner ads.
Change of Command
"We look forward to partnering with the DoubleClick team to help realize the company's significant opportunities for growth in both its online advertising and marketing and data business," Hellman & Friedman Managing Director Philip Hammarskjold said.
For the time being, DoubleClick will maintain its New York headquarters and its approximately 1,500 employees. However, current CEO Kevin Ryan will step down once the deal is finalized.
The deal will bring to an end the 6 1/2-year run as a public company for DoubleClick, which was an early symbol of the rise of the dot-com world. The firm's shares traded above $100 for a stretch in 2000, only to fall sharply when the Nasdaq collapsed.
Speculation began immediately about how Hellman & Friedman might proceed in attempts to get the most value out of its investment in DoubleClick. Possible scenarios include breaking the company into parts and selling those to likely buyers.
For now, the firm indicated it would start by running DoubleClick's two business units separately, promoting the current business unit presidents to the roles of CEO of each division. David Rosenblatt will become CEO of the TechSolutions ad-placement division, and Brian Rainey will lead the DataSolutions database marketing division.
"DoubleClick has two outstanding franchises with strong presence in their marketplaces," Hammarskjold said.
Surge in Ad Spending
Forrester Research analyst Jim Nail told the E-Commerce Times that DoubleClick benefited from the surge in online marketing spending, which went well beyond the white-hot search marketing niche to include a rebound in sales of traditional Web advertising such as banner ads.
Nail also said that businesses that want to market online don't hesitate to reach out to DoubleClick, which brings a long history of creating and distributing online advertising as well as a strong track record in e-mail marketing. The company also is benefiting from the rise of rich-media ads — those with streaming video or music or interactive games –with DoubleClick reporting a huge spike in those ads in the first quarter.
However, challenges remain. While serving ads was once considered a value-added business where name-brand-backed reliability was worth paying a premium for, prices have dropped sharply as technology has allowed server prices to plummet.
Janco Partners analyst Martin Pyykkonen said in a research note that the valuation appeared to be appropriate given DoubleClick's size, the growth of the market and the fact that pricing pressure will likely keep profits somewhat in check. With everyone from Google to Yahoo and a host of smaller firms now in the ad-delivery business, that segment has become a commodity, he said, with the lowest price often winning the business.
Indeed, DoubleClick's most recent earnings report just last week underscored those challenges, with the company posting a loss for the quarter despite a 12 percent rise in revenue.
Hellman & Friedman manages a range of investments, including a 15 percent ownership stake in the Nasdaq stock market — it is the market's largest private stakeholder — and was a pre-IPO investors in interactive marketing services firm Digitas. It later sold its entire stake in that firm.
Opt-In Marketing Practices
In a conference call, the firm focused on the near-term opportunities rather than any major long-range changes it might make to DoubleClick. Analysts said the decision to keep the two unit presidents in place and upgrade their roles to CEO was likely a signal to customers that the company would run with little change in the near term.
Over the years, DoubleClick has also been a lightning rod for controversy, most notably in the consumer privacy arena, since it was one of the first companies to actively track user movements and analyze that data to help companies market more effectively. Those practices were the subject of Federal Trade Commission (FTC) investigations. DoubleClick responded by becoming an early advocate of opt-in marketing practices.
In the conference call, Ryan said DoubleClick spoke with "dozens" of interested parties since hiring Lazard & Co. to explore strategic options last October. "The board considered the sale of the entire company and the sale of some of the assets," he added. "This was the best option."