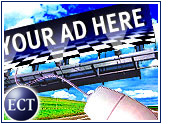 Embattled e-marketer DoubleClick (Nasdaq: DCLK) is giving up ownership of its European media operations, and teaming with a German partner to run them as it shoots for profitability next year.
DoubleClick said Tuesday it will sell its European media business to Germany's AdLink Internet Media for 30.5 million euros (approximately US$27 million), while remaining a partner in the venture.
The companies said the deal will create an independent online media entity in Europe that may eventually reach more than half of all European Internet users.
International Strategy
DoubleClick CEO Kevin Ryan said the arrangement brings its European strategy in harmony with the company's other international holdings.
"This type of structure is in line with how we treat the media businesses in Asia and Japan, which have proven to be very successful joint ventures," Ryan said.
"While the United States has seen a tremendous amount of consolidation in the online marketing industry, Europe remains fragmented," said Ryan.
Ryan also said that the new agreement "allows DoubleClick to focus its European business on expanding its technology and e-mail offerings."
Cross-Promotion
The two companies said they will sell each other's products over their respective ad networks, giving AdLink customers the ability to run global campaigns. AdLink also signed a 10-year agreement to use DoubleClick's DART advertising service.
Tuesday's agreement also gives AdLink the opportunity to sell a 15 percent stake to DoubleClick for 35.5 million euros, through an option exercisable between January 15 and March 31, 2002. After that, DoubleClick will have an option to acquire an additional 21 percent stake. DoubleClick will also have representatives on the AdLink board.
DoubleClick reported a third-quarter loss in October, saying widespread corporate belt-tightening led to lower advertising sales. At the time, the company said it was shifting its focus to direct-response, e-mail marketing and away from online advertising. Revenue from the global media business in the quarter fell 65 percent from a year earlier.
AdLink Expansion
AdLink said it plans to expand into Italy following the transaction. The combined media business will serve clients such as MTV Europe, La Tribune, The Independent and Expedia as it grows, AdLink said.
"This transaction allows us to achieve the critical mass we need for our business model," AdLink CEO Michael Kleindl said. "Stability, financial strength and scale in the form of increased reach and better service offerings are crucial in our business today."
The agreement, which is subject to the approval of AdLink shareholders, is set to close in the first quarter of 2002. It also includes the assumption of some liabilities.