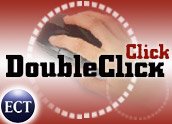 Interactive marketing firm DoubleClick said it has hired an investment banking firm to help it examine strategic options, including a possible sale of all or part of the company.
In a brief statement, DoubleClick said it had tapped Lazard Freres & Co. to "explore strategic options for the business in order to achieve greater shareholder value, including a sale of part or all of its businesses, recapitalization, extraordinary dividend, share repurchase or a spin-off."
DoubleClick did not set a time frame for any action or decision, and a spokesman declined further comment.
The move comes as DoubleClick faces increasing competition from search engine advertisement placement on sites such as Google, Yahoo and others, as more marketers allocate funds toward those targeted efforts and away from traditional banner and billboard-style ads.
Investors cheered the news of a possible sale, however, sending shares higher by nearly 15 percent in morning trading today to US$7.28. New York-based DoubleClick, which was founded in 1996 and went public early in 1998, now has a market capitalization of about $800 million and posted revenue of about $271 million last year.
On the Block
Analysts speculated that any sale would likely be worth between $750 million and $1 billion and said that DoubleClick might be trying to time the sale to take advantage of what is expected to be an improvement in the pricing of online ads starting next year.
The move was announced shortly after DoubleClick disappointed investors and analysts by predicting lower fourth quarter earnings.
It was subsequently hit with two analyst firm downgrades. Piper Jaffray analyst Safa Raschtchy noted that the company's marketing automation unit fell short of targets in the most recent quarter and that total fees charged for advertisement management services continues to trend lower.
DoubleClick was built on the backs of making and deploying banner advertising and has moved to expand into more of an interactive marketing service. In a nod to the competitive threat of search engine placement, DoubleClick in May said it would buy Performics, which specializes in search engine and affiliate marketing.
Immediate speculation was that each of the major search engine companies — Google, Yahoo and Microsoft among them — could find value in DoubleClick. If nothing else, the company has an extensive network of relationships with advertising agencies, and by extension, a host of major companies that use online marketing.
All of the search firms also have plenty of cash or stock value to pull off such a move.
Forrester Research analyst Jim Nail noted that DoubleClick is also strong in the area of e-mail marketing. Although the problem of spam might have kept e-mail marketing from flourishing to its full potential, consumer click-through rates and buy rates from e-mail remain strong, he noted.
End of the Middleman?
However, Nail added that e-mail is now only used as part of a larger overall marketing strategy, with companies turning to full-service firms that can offer a range of services — including search-engine placement.
"The online marketing landscape is becoming increasingly complex, and companies want to deal with a firm that can tightly integrate their campaigns," Nail said.
Andrew Goodman, editor of the search engine and marketing blog Traffick, said DoubleClick has been a victim of what he calls a "squeeze," with advertisers and Web publishers pushing third-party companies aside to forge direct agreements. He called the ability to strike such deals "the Achilles heel of the business model" and said it could one day threaten the likes of Google.
"Advertiser demand is clearly there," Goodman said. "But any intermediary's ability to deliver big online reach to make the advanced ad serving and tracking worthwhile is in serious doubt and can change from year to year."