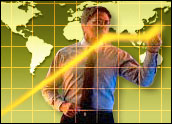 Seeking to unlock value from a years-long acquisition spree, IAC/Interactive said Monday it will split into five publicly traded companies, leaving the Ask.com search engine as the core IAC holding, along with other Internet interests.
IAC's board has approved a plan to spin off four new companies: HSN, which will hold the company's retail interest, including its home shopping network, its catalog businesses and some e-commerce sites; Interval International, which will handle its time-share businesses;LendingTree, which will also includeRealEstate.com,Domania and other real-estate related sites; and Ticketmaster.
The remaining IAC will control Ask.com,Citysearch and a slew of other Web properties that IAC has acquired under Chairman and CEO Barry Diller in recent years, including portal iWon.com, online party-planning siteEvite.com and specialty sites such asBustedTees,CollegeHumor,GarageGames andGifts.com.
"We've been a complex enterprise almost from the very beginning 12 years ago, with hundreds of transactions over those years," Diller said. "While we've created a lot of value, I've always believed our complexity and many mouthfuls of sentences to explain who we are and what our strategy is have hampered clarity and understanding with all our constituencies, particularly investors."
Investors cheered the news, driving IAC shares up 8 percent in morning trading Monday to US$31.96. The stock had been down as much as 20 percent during the year, despite run-ups in other Internet company shares, a performance that likely helped motivate the company to take the step.
Standing Alone
Another factor driving the move was the relative weakness of the HSN unit, which some investors have called on Diller to put up for sale. The network has lost ground to rival QVC in recent years and has been seen as a drag on some of the more profitable business lines.
Splitting the companies up will enable their value to be realized and enable them to carry out their own strategies for success, Diller said.
"HSN I believe now has a solid strategy and the leadership to thrive as a 'pure play' retailer," Diller said, adding that Ticketmaster is poised to have a hand in "shaping the live entertainment industry" and that Interval "will be flat out a great stand-alone company."
Diller will remain chairman and CEO of the new IAC. Existing shareholders will retain 100 percent of the new companies once the split up is completed, which is expected to happen some time in the middle of 2008. IAC will also retain most of the company's cash reserves, though he said all of the new companies will be "appropriately capitalized."
"IAC becomes a truly integrated Internet conglomerate with over 30 brands with great growth, solid revenues and earnings and a pristine balance sheet," Diller said.
Ask.com is the jewel of the IAC Web family, said Forrester Research analyst Charlene Li, and was somewhat lost amid the slew of Internet plays in the larger company.
"There's always been a question of how much Ask is just an in-house search engine for all of IAC and how it all fit together," Li told the E-Commerce Times. "From a strategic standpoint at least, it seemed as though the sheer size of the holdings might have been hampering IAC from advancing its Web efforts."
Local Leader?
Ask.com has made some inroads in terms of its share of the search market. According to comScore, Ask accounted for 4.7 percent of all U.S. Web searches in September, up from 4.5 percent in August.
Though that still leaves it well behind leader Google, at 57 percent, as well as Yahoo and Microsoft, IAC has indicated it intends to invest heavily to both improve the search engine — rolling out a 3-D interface that combines Web, image and video results earlier this year — and to market it, Sterling Market Intelligence analyst Greg Sterling told the E-Commerce Times.
Ask is also well-positioned to become a major force in local search, thanks to its local-focused sites such as CitySearch, which IAC has already started to combine with Ask.
"Google, Yahoo and Microsoft are all investing in local search, but Ask brings a lot of expertise, assets and local advertiser relationships to the table and that gives it the chance to stand out," Sterling said.