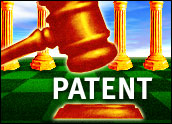 Dell and Intel have been hit with a patent infringement lawsuit that claims the two companies pilfered graphic display technology developed by a small California company to create entire families of processors and computers.
The suit, filed by MicroUnity Systems Engineering, claims that technology used in almost all Intel Pentium III and Pentium 4 chips to display video and graphics and produce sound infringes on seven patents held by MicroUnity. Those Pentium chips power almost all current Dell computer models.
Neither Dell nor Intel was immediately available for comment on the suits, which were filed in Texas, where Dell is based.
Lucky Seven
John Moussouris, CEO and founder of MicroUnity, said Intel and Dell have infringed on seven patents the firm has secured since its founding in 1988. "Basic core features of Dell's computer systems and Intel's microprocessors infringe the patents," Moussouris said in a statement.
Among the technologies involved are Streaming SIMD Extension (SSE) and SSE2 multimedia extensions, as well as hyper-threading, which Intel rolled out in the past year as a way of enabling a single computer to run more programs simultaneously.
According to the U.S. Patent Office, MicroUnity holds 59 patents in total.
Flagship Station
Observers noted that because Intel's processors are used in computers made by dozens of companies, MicroUnity could have sued any number of PC makers. Dell may have been selected because of its close relationship with Intel — it so far has refused to adopt chips made by Intel's main rival, AMD — and because of its stature as a growing company.
"They may expect that Dell will be the most willing to push for a quick settlement because they have the most to lose," IDC analyst Shane Rau told the E-Commerce Times. Such a settlement, in turn, might help prompt other PC makers to ink licensing deals.
The suit targets the Pentium line that has been the engine of Intel's recent growth, Rau noted.
"The Pentium line, especially the Centrino brand, is the foundation of Intel's business both right now and for the next few years," he said.
Settlement Likely
Though the lawsuit did not specify the amounts being sought in either damages or licensing fees, the case eventually will boil down to a matter of money, Yankee Group senior analyst Laura DiDio told the E-Commerce Times. That will happen because the technology involved is too valuable to put at risk in a lengthy lawsuit.
"If there can be a settlement reached, that will be everyone's first choice," DiDio said. "The alternative is several years' worth of uncertainty while this thing gets figured out in court."
Trying on Suits
The suit was filed just a day after two other high-profile PC makers locked horns over patent issues.
Last Thursday, Hewlett-Packard sued rival Gateway, saying the smaller PC maker had infringed on several HP patents covering password and image design technologies. That suit stemmed in part from Gateway's recent acquisition of discount PC maker eMachines.
Intel also is no stranger to patent lawsuits. In February, it convinced an appeals court to overturn a 2002 patent infringement award to Intergraph, reducing the payout Intel will make to the smaller firm by $100 million.
Earlier this year, Intel locked legal horns with Patriot Scientific, which claimed Intel had infringed on its "speed system clock" patent — technology that helps increase the processing speed of chips.
Growth Trajectory
News of the suit came just as Dell CEO Michael Dell predicted his company will reach its US$60 billion-per-year sales goal ahead of schedule.
Dell told an Australian business television show that the company is on track to arrive at that threshold well before the January 2007 goal it set for itself just last year. Dell posted 2002 sales of $41.4 billion.