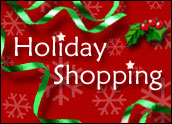 Cyber Monday lived up to and even exceeded its much-hyped advanced billing, with U.S. consumers setting a new spending record on the unofficial kickoff to the online holiday shopping season.
ComScore data show U.S. shoppers spent US$733 million online on Monday, a 21 percent increase when compared with the $610 million spent on Cyber Monday in 2006. It was the first time comScore — whose data excludes auction sales — has recorded more than $700 million in sales on a single day.
Since the beginning of November, consumers have spent $10.7 billion on the Web, the firm said, a 17 percent growth rate over last year.
Not Your Typical Monday
Cyber Monday spending was 84 percent higher than the typical Monday during the rest of the year, reflecting both the significant hype leading up to the day and the fact that scores of online retailers offered special one-day-only discounts to help jump-start spending.
There may yet be larger online shopping days this season, with the next two Mondays as the most likely candidates.
Still, Cyber Monday "is an important day during the online holiday shopping season, representing the first significant spike in online holiday spending activity," said comScore Chairman Gian Fulgoni.
"We expect that a number of individual shopping days during the coming weeks will surpass the Cyber Monday total, with some days potentially surpassing $800 million," Fulgoni added.
Big Names on Top
There were 38 percent more buyers online during this year's Cyber Monday, comScore reported. However, the average amount each shopper spent dropped 12 percent — a reflection of the deep discounting many e-tailers offered.
"Online retailers now consider Cyber Monday a virtual Black Friday," Shop.org Executive Director Scott Silverman told the E-Commerce Times.
As a result, just as traditional retailers offer one-time-only door-busters to attract early shoppers, many e-tailers were "offering promotions that will be tough to beat later in the holiday season."
Shop.org — which is credited with coining the Cyber Monday term — said 550 merchants offered special deals through its CyberMonday.com Web site, including free shopping and one-time discounts. Traffic to that site was up 56 percent year-over-year, comScore said.
Overall, 6 percent of Web users bought something online on Monday and 44 percent did some shopping-related activity such as research a potential future purchase.
The Biggest Gains
Not surprisingly, the top online retail sites saw the biggest gains from the busy Cyber Monday, with traffic to Amazon.com sites up 26 percent year-over-year and 50 percent when compared with the average of the previous four weeks. Traffic to Wal-Mart more than doubled compared with the previous four weeks. Overstock.com, Best Buy and Circuit City also saw traffic more than double, according to comScore.
Other firms reported similar jumps. eBay's PayPal said it saw a 34 percent increase in Web transactions on Cyber Monday, for instance, and the auction company's Shopping.com comparison site sent 28 percent more traffic to its participating merchants than a year ago.
Nielsen Online, meanwhile, reported that 32.5 million unique visitors clicked onto retail sites in its Holiday eShopping Index, a 13 percent increase when compared with the traffic on Black Friday and 10 percent when compared with last year's Cyber Monday.
High Expectations
Electronics remained a top category, Nielsen found. A check of some top retailers showed some models of Apple's iPod were on back order, suggesting demand on Cyber Monday for the devices had outstripped demand, Morgan Keegan analyst Tavis C. McCourt said in a research note Tuesday.
The 21 percent increase in spending on Cyber Monday falls in line with other forecasts for such double-digit growth for the shopping season overall. For instance, Forrester Research has predicted sales would grow 21 percent to $33 billion.
The early returns appear to show that more consumers are coming online to purchase than in the past and that they are comfortable buying in a wider range of categories, from apparel to jewelry, as well as standbys such as electronics and books, Forrester Research Director Carrie Johnson told the E-Commerce Times.
In fact, Yahoo said its top category on Black Friday and Cyber Monday was apparel, the first time clothing had overtaken electronics as the most popular shopping category.
"The universe of buyers is larger and the items they are seeking is growing," Johnson said. As a result, even as each shopper reduces spending due to a shift to lower-cost items, the overall e-commerce haul will continue to expand at a healthy rate, she added.