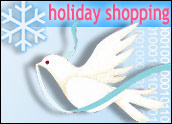 With brick-and-mortar retailers reporting a blockbuster Black Friday, Internet merchants looked to counter with a strong Cyber Monday, with at least one analyst firm predicting sales would set a record by exceeding 2006 levels.
Although Cyber Monday has come to stand for the virtual equivalent of Black Friday, the day after Thanksgiving, the first Monday after the holiday is typically not the busiest online retail day of the year.
Still, it is at least a symbolically important kickoff to the sprint toward the holiday season finish line, and Web use tracking firm comScore predicted a record-setting day, with sales possibly reaching US$700 million. That figure would mark an all-time high for online spending in a 24-hour period, but would likely be eclipsed sometime later this season, comScore said.
An Early Indicator
Online sales on Black Friday — which traditional retailers said saw strong traffic and buying at stores nationwide — reached $531 million, a 22 percent increase over last year's levels, according to comScore. Those sales helped boost overall spending since Nov. 1 to more than $9.3 billion, up 17 percent over the same time frame last year.
"It's clear that consumers are increasingly turning to the Internet to make their holiday purchases," said comScore Chairman Gian Fulgoni. "Online spending on Black Friday has historically represented an early indicator of how the rest of the season will shake out."
Cyber Monday, he added, "will provide an even clearer indication of what lies ahead for the rest of the season."
Drawn by Discounts?
Other research firms and e-commerce players were reporting similar surges in traffic. An estimated 72 million U.S. consumers will venture online on Monday, a 61 percent increase over 2006 numbers, said Shop.org, the Web arm of the National Retail Federation. Almost a third of all adults — 31.9 percent — will spend some time shopping on the Web, the group's survey said.
Just as Black Friday door-busters and early bird bargains helped get shoppers into stores early, online retailers were dangling discounts and other deals, with nearly three-fourths of all retailers offering some special Cyber Monday deals, Shop.org said.
Plus, traffic to retail sites in North America is up 80 percent over a normal Monday morning, according to Akamai's global retail usage index.
Traffic was also up 18 percent over the same period of time during Cyber Monday in 2006, the firm said, with an average of 4.5 million visits to retail sites worldwide each minute, a record on Akamai's retail platform.
More Reliable Sites
Web sites have become more reliable as well, with many retailers starting the process of preparing for the Black Friday and Cyber Monday surges months in advance, said Pedro Santos, Akamai's senior product marketing manager for retail.
"They expect to see seasonal peaks," Santos told the E-Commerce Times. "One of the reasons they turn to a firm like ours is to help make sure they don't have any surprises when it comes to this critical time of year," he added.
"Cyber Monday is really important as an indicator for the season," Fiona Lake Waslander, director of Yahoo Shopping, told the E-Commerce Times. "We see a lot of deals coming in to get people in and browsing and researching."
Cyber-merchants are wise to offer deals to help attract customers, especially given the uncertain economic conditions around this holiday season, Waslander said, citing a recent Harris Poll done for the shopping network that found one in four shoppers plans to spend less this year on gifts than last year. "That really increases the importance of getting online early and looking for those bargains," she added.
The most popular online shopping days of this season are likely to be the next two Mondays — Dec. 3 and Dec. 10 — before approaching shipping deadlines begin to slow e-commerce traffic, according to Yahoo. "Shipping has become more reliable, so people are more comfortable waiting a bit longer to buy," Waslander said.
Downtime and Downside
While the e-commerce niche overall is better prepared for the holiday season, some retailers still experience slow response times or even outages. The Web site of discount retailer Costco was experiencing problems early on Cyber Monday, Web monitoring firm Gomez said Monday.
Such issues can have long-lasting impacts, noted Akamai's Santos. "If a shopper has to wait too long for a response from a Web site, they'll go somewhere else and they'll be much less likely to come back to that site to shop later in the season as well," he said.
Meanwhile, all the Cyber Monday shopping will come at a cost, according to Challenger, Gray & Christmas, which estimated that U.S. businesses could lost as much as $488 million in lost productivity as workers surf the Web for bargains instead of keeping their noses to the grindstone.
While the impact is muted by the fact that many so-called knowledge workers often work more than the traditional eight-hour shifts, "online shopping can be a distraction in the workplace, especially around the holidays."
Still, Challenger cautions against harsh policies or software blocking access to shopping sites. "Unless online shopping causes deadlines to be missed or Internet performance to suffer, companies should not attempt to crack down on the practice," he said. "Doing so could negatively affect morale and loyalty, which ultimately will have a greater impact on the bottom line than a few minutes of cyber-shopping."