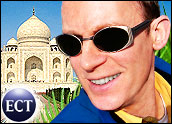 No type of management position has undergone more profound changes over the last ten years than that of client relations managers. Changes are being driven by economic globalization, competitive pressures and the information technology (IT) revolution. Changes in the roles of client relations managers parallel changes in the importance of these positions, particularly in business-to-business environments.
"No one in a firm is more important than the client relations manager," said Rohit Shukla, CEO of Larta Institute in Los Angeles, which helps high-tech organizations develop and implement marketing plans. "We need to step back and take a macro view of the role of client relations managers within the larger global economy."
Within the global economy, all companies today are becoming virtualized, because all use inputs produced outside of their organization.
"Not a single industry is immune from the opportunities of using a globally available talent pool to obtain and maintain customers," Shukla said. This adds instability to some client/vendor relationships because of the ease with which vendors can be replaced by suppliers elsewhere in the world. Hence, the importance of client relations managers — to stabilize client/vendor relations. If retaining a customer costs ten percent of the cost of obtaining a new one, then keeping good customers is worth the investment in customer relations efforts.
The value of good client relations managers is demonstrated at commercial call centers that perform below par but retain clients that are impressed by the responsiveness and flexibility of the facilities' client relations managers. These managers may be able to keep a client on board even after a service provider repeatedly fails to meet performance targets.
Client Relations Becoming More Complex
Three factors are adding to the complexity of client relations:
Less distinctions between clients and vendors.
Expansions into new markets.
Rising expectations for customer service.
We begin by exploring the blurring of distinctions between clients and vendors.
"Entities that we initially sell to may change and sell to us — and vice versa," said Shukla. "This changes the way we treat customers, raising the importance of personal relations and integrity at every phase of the process," he said.
Our sense of who customers are, how they behave and how they should be treated is changing, driven by the realization that a party who is a customer today may be a vendor tomorrow. Good client relations facilitates rapid adjustments in client-vendor business models and roles.
Expansions Into New Markets
The complexity of client relations accelerates as companies expand into greater numbers of local markets. Client relations managers are responsible for keeping track of trends in local markets. This knowledge-gathering function is analogous to maintaining an economic spying operation and uses many of the same methods.
"While business frameworks are becoming increasingly global, along with business tools, processes and language, customers and trends may remain predominantly local," said Shukla.
"Client relations managers need to be able to gather and use locally relevant knowledge and pursue local business opportunities with globally-based tools, methodologies and connections," he said. This means that the needs of a customer in one part of the world can be addressed by someone elsewhere, often in another country, as with customers in Sri Lanka being helped by a call center in Singapore.
In short, client relations managers are now expected to keep in touch with trends in local markets while also maintaining their connections with global knowledge resources. They are responsible for identifying, understanding and tracking the specific regulatory, social and political issues that drive their industries in local markets. In pharmaceuticals, for example, client relations managers need to understand and track reimbursement rates by medical insurance carriers.
Rising Expectations for Customer Service
Customer service expectations are rising around the globe, spurred by increases in spending power and positive examples set by companies using good service to attract and retain customers. "Why should a domestic Indian customer put up with grief in attempting to obtain customer service?" asks Shukla.
He points out how markets are becoming increasingly multi- and cross-cultural, especially in areas with large population inflows. Increases in population diversity are visible on all continents and add complexity to client relations.
Customer service norms are oriented more towards statistical performance metrics in the United States than in any other major market. Individual customers and corporate clients are attuned to metrics such as average speed of answer, average call length and first time resolution rates. Metrics-oriented service is catching on elsewhere, as expectations for customer service rise around the globe.
In explaining why they set up their own customer service call centers, executives at domestic Indian firms commonly cite the fact that they were tired of having to address client service requests themselves, so they set up a call center to handle incoming calls.
In future columns, we will examine the role of customer relations managers at IT and call center outsourcing facilities. We gobeyond basic IT business skills and strategies to look at how to maximize the effectiveness of client relations managers in business-to-business environments. The purpose is to identify what improves client-vendor relations for both parties.
---
Anthony Mitchell
, an E-Commerce Times columnist, has beeninvolved with the Indian IT industry since 1987, specializing through
InternationalStaff.net
in offshore process migration, call center program management, turnkey software development and help desk management.
---