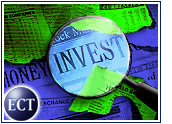 Critical Path, Inc. (Nasdaq: CPTH) plungedUS$9.38 to $10.63 in the first few minutes of trading Friday, after thecompany, which provides messaging and Internet infrastructure services toonline businesses, reported a fourth-quarter lossand offered a grim forecast for the year ahead.
Revenue for the quarter totaled $52 million, up 534 percent from a yearearlier, but 16 percent ahead of the preceding quarter, the San Francisco, California-based company said. The loss beforespecial charges totaled $11.5 million, or 16 cents per share, compared with$11.0 million, or 26 cents, a year earlier.
Analysts had expected thecompany to post a profit of a penny per share.
"Despite a difficult economic environment, Critical Path achieved solidrevenue growth and improved gross margins, while adding over 200 newcustomers," Critical Path chief executive officer Doug Hickey said.
A $7 million license agreement signed in the quarter was not included inlatest-quarter results for accounting reasons, the company said. Currencyexchange rates, higher-than-expected operating expenses from recentlyacquired PeerLogic and a "significant" allowance for doubtful accounts allhurt results in the quarter, Critical Path said.
"While we are disappointed with the bottom-line impact of these charges, weare evaluating and will be taking concrete steps to control the underlyingfactors impacting these areas," said chief financial officer Larry Reinhold.
Added Hickey: "Taking into account economic indicators that seem to be affecting thetechnology sector across the board, we are also reevaluating our guidancefor 2001 and taking a very conservative stance toward the company'sfinancial expectations."
Revenue for the first quarter will likely total $54 million to $56 million,with a loss before special charges of 15 to 16 cents per share, the company said. For the fullyear, the company expects revenue of $255 million to $260 million, with aprofit likely in the third quarter, said Hickey.
"It's disappointing to lower the expectations for Critical Path, butmacroeconomic forecasts and reports from leaders in the technology spacelead us to believe it is prudent to be conservative at this time," Hickey said.