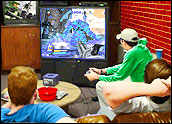 A California state law prohibiting the sale of violent video games to minors was declared unconstitutional Monday by U.S. District Judge Ronald Whyte on the grounds that it violates the First Amendment.
The law, which was signed by Gov. Arnold Schwarzenegger in 2005 but had not yet been implemented because of a suit brought by video game makers, would have made it illegal for retailers to sell or rent violent video games to minors. It also would have required makers of the games to label particularly violent ones with the number "18," indicating that they are only appropriate for players over the age of 17.
"At this point, there has been no showing that violent video games … in the absence of other violent media, cause injury to children," Whyte asserted. "In addition, the evidence does not establish that video games, because of their interactive nature or otherwise, are any more harmful than violent television, movies, Internet sites or other speech-related exposures."
As a result, Whyte concluded, "the court, although sympathetic to what the legislature sought to do by the Act, finds that the evidence does not establish the required nexus between the legislative concerns about the well-being of minors and the restrictions on speech required."
'Shocked' by the Ruling
Both Schwarzenegger and state Sen. Leland Yee, D-San Mateo, author of the legislation, reacted quickly with dismay at the ruling.
"I signed this important measure to ensure that parents are involved in determining which video games are appropriate for their children," Schwarzenegger said. "I will vigorously defend this law and appeal it to the next level."
"I am shocked that the Court struck down this common-sense law" said Yee. "AB 1179 worked to empower parents by giving them the ultimate decision over whether or not their children should be playing in a world of violence and murder."
'It Was Inevitable'
The Entertainment Merchants Association (EMA), on the other hand, felt differently. Along with the Entertainment Software Association, the EMA — known at the time as the Video Software Dealers Association — challenged Yee's law shortly after it was signed, resulting in the preliminary injunction that lasted until Monday.
"It was inevitable that the federal district court would find the California video game restriction law unconstitutional, as eight similar laws around the country have been overturned in the past six years," the EMA said. "It is now time for the California Legislature to move beyond political grandstanding and accept the video game industry's invitation to work with them to educate the public about video game ratings and encourage parents to utilize those ratings when selecting video games for their families."
Not everyone believes the industry associations have children's best interests at heart, however.
Alphabet Soup
"We're not surprised by the ruling," Darin Broton, a spokesperson for the National Institute on Media and the Family (NIMF), told the E-Commerce Times. "State legislators have been trying to get their hands around the issue of media violence and video games, but time and time again, the industry takes the state to court, and almost always the industry wins."
Similar cases in New York and Louisiana recently had similar results, he noted, and Congress continues to examine the issue.
What's needed, NIMF believes, is a new, universal rating system that goes beyond just video games, Broton said. "Right now we have an alphabet soup of rating systems, with different systems for TV, movies and video games," he explained. "Families need something that's simple and understandable that gives them adequate information to make good choices for their families."
Mass Market Future
There's no doubt it's a fine line that must be walked between combating violence and protecting free speech, and "everyone knows media do play a role in some of those problems," Michael Cai, director of broadband and gaming for Parks Associates, told the E-Commerce Times.
What bodes well for the future, though, is the growing success of relatively nonviolent games like Wii, Cai noted, particularly when contrasted with the trouble companies like Rockstar Games, which makes the infamous "Grand Theft Auto" series, have been having.
"More and more publishers are realizing that there's a large untapped market out there, and they're making games with more mass-market appeal," Cai said.
Steven Spielberg's collaboration with Electronic Arts, for example, is being watched with eager anticipation. "From my perspective," Cai said, "that's much more exciting."