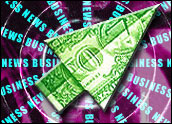 Carl Icahn's bid to change the corporate direction at Yahoo — specifically to push it into the arms of Microsoft — got an unexpected boost this week when a judge ordered court documents in a shareholder lawsuit unsealed.
The revelations and accusations in those papers, including that Yahoo turned down a US$40 per share offer from Microsoft more than a year ago, may help galvanize shareholders who feel Yahoo management simply doesn't want to merge with the software maker, regardless of how much it might benefit stockholders.
Not that Icahn needs much help.
The billionaire investor, who announced last month he had begun to aggressively buy up Yahoo shares and said he would nominate a slate of directors to stand for election when shareholders meet later this summer, has a lengthy track record of affecting change in corporate behavior.
On Tuesday, Icahn made it clear that he wants Yahoo cofounder and CEO Jerry Yang out of the picture, saying that getting a favorable deal done with him in place would be all but impossible. The revelations underscore just how determined Yang is to keep Microsoft's mitts off of Yahoo, Icahn told The Wall Street Journal, citing the unsealed court papers.
Not So Fast
Having Icahn take aim at him may give Yang an uneasy feeling, since the investor has a track record of causing change, though sometimes it's indirect.
More often than not, Icahn gets at least part of his way, even when he falls short of his stated goal. For instance, though he failed to win election to Motorola's board last year, he still managed to prompt several corporate governance changes and helped convince the company to replace its CEO. Earlier, Icahn helped get Blockbuster to move CEO John Antioco aside, though that happened nearly two years after the investor was elected to that company's board.
Still, not everyone is convinced Icahn will win this particular battle.
"It's game over," Mark Stevens, chief executive officer of marketing and management consulting firm MSCO, told the E-Commerce Times. "Icahn has already lost."
The Yahoo gambit is unusual for Icahn, said Stevens, who also authored a book on the investor in the mid-1990s called King Icahn. Icahn traditionally gobbles up shares he believes to be undervalued. In this case, however, he began buying when Yahoo shares were riding high because of Microsoft's offer.
One Thing in Mind
The Yahoo scenario is also different because it involves personalities every bit as large as Icahn's in the form of Microsoft Chairman Bill Gates and CEO Steve Ballmer, Stevens noted.
"The reason [Icahn bought Yahoo on the uptick] was clear but has proven to be a form of quicksand: he believed Microsoft needed a tough task master to give Ballmer the guts to go through with its offer," Stevens added, suggesting that Icahn believed his presence could prompt Yahoo to reconsider its rejection of Microsoft. "But just like Carl never wants partners, neither does the house that Bill Gates built. And although Gates may be diverted with affairs of his foundation, the last thing he wants at this time in his life and career is to find Carl Icahn in bed. From Bill's viewpoint, that would make the horse head scene in 'The Godfather' seem attractive."
Indeed, while some laud Icahn's efforts to boost corporate valuation on behalf of shareholders, critics claim he acts with one main objective in mind: Boosting the fortunes and profile of Carl Icahn.
If he falls short, Yahoo wouldn't be the only failure on Icahn's resume. His biggest flop to date is his effort to buy out faltering airline TWA, which ended up in bankruptcy anyway.
Making Changes, Making Money
For Icahn to get his way, Microsoft needs to be a willing participant, and it has formally withdrawn its bid for Yahoo. Still, reports have repeatedly resurfaced in recent weeks that talks at some level remain active.
"Ongoing, engaged conversations" with Microsoft continue, Yahoo President Susan Decker said Wednesday during the Advertising 2.0 conference in New York. The portal tried to use the event to highlight its own successes in the online ad space, including announcing a deal to handle online advertising for Wal-Mart.
Icahn's ability to get large institutional shareholders to side with him will likely determine whether he can win his proxy battle — and that's far from a sure thing, Peter Cohan, the president of venture capital and consulting firm Peter S. Cohan & Associates, told the E-Commerce Times.
"It looks like Icahn could get at most 30 percent of the shares on his side. I don't think this is enough to get his slate of directors elected. But if he did succeed, he would oust Yang," Cohan said.
Whether Microsoft will still be standing by with a bag full of cash when the dust settles from the proxy fight in the heat of the summer may depend on whether the board in place then is open to something other than a full merger.
"Microsoft wants Yahoo's search business and not the other parts. This would be more efficient for Microsoft than buying all of Yahoo," Cohan said. "Microsoft's goal remains to boost its search engine advertising market share versus Google. I think Yahoo's board would sell the search engine business if Microsoft paid enough for it. But I am not sure how easily separable that search engine business is from the rest of Yahoo."