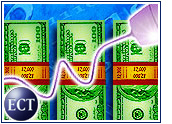 Corel (Nasdaq: CORL) improved 13 U.S. cents to $2.44 in morning trading Friday, after the software maker said it turned a profit in the first quarter ended March 31st.
The Ottawa, Ontario-based maker of WordPerfect said that it earned $534,000, or a penny per share, compared with a loss of $12.4 million, or 19 cents, in the year-earlier quarter.
Revenue, however, fell to $32.5 million from $44.1 million. The results were released after the close of trading Thursday.
Corel president and chief executive officer Derek Burney said the results show that the company's cost-cutting measures have paid off.
"We're pleased with the work we've done to put this company back on a more solid financial footing," Burney said.
The company said it will release a new version of Word Perfect Office this spring, followed in the summer by "a full line of new creative product releases" for Windows and Macintosh.
Separately on Thursday, Corel said that it named Rene Schmidt as its new chief technology officer, responsible for leading the company's drive to adopt new technologies and "capitalize on opportunities in high-growth, high-yield markets."
Schmidt has been with Corel since 1995, most recently as executive vice president for Linux products. He will also represent the company at technology forums and conferences, serving as one of its principal keynote speakers, Corel said.
In January, Corel began a turnaround effort aimed at repositioning itself in a changing market and fostering growth at a rate of at least 20 percent per year. The company said that "creative products" like CorelDRAW and KnockOut masking software would be the primary revenue driver.