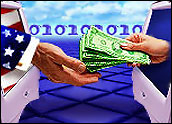 A new bill introduced by a Democratic Senator from Arkansas aimed at taxing online porn sites — at a 25 percent rate — is raising Constitutional concerns among legal scholars. The bill is called the Internet Safety and Child Protection Act of 2005 (S 1507), and has been referred to the Senate Finance Committee.
"Many Internet service providers have taken significant steps to provide parents with tools to protect their children from inappropriate material on-line and they should be commended," said Sen. Blanche Lincoln (D-Ark.). "But sadly, many adult-oriented Web sites in today's online world are not only failing to keep products unsuitable for children from view, but are also pushing those products in children's faces. And it's time that we stand up and say, enough is enough."
Constitutional Concerns
Representatives Jim Matheson and Robert Menendez — both Democrats — have introduced similar legislation into the House of Representatives.
The legislation comes as a new report is being published by Third Way, a moderate think tank, which reports that children between the ages of 12 and 17 are the biggest viewers of Internet porn, and that children are, on average, exposed to online pornography at age 11.
Though the goal of protecting children is laudable, the means to achieve that goal, in the Lincoln bill, may not be Constitutional, scholars say.
"Complicating matters is the bill's questionable constitutionality. The Supreme Court has not been friendly to Congressional attempts to regulate Internet porn. And the Supreme Court has, in the past, struck down taxes that differentially burdened constitutionally protected speech," writes Eugene Volokh, a professor of law at UCLA, former law clerk to Justice Sandra D. O'Connor, and opinion-maker in his blog, The Volokh Conspiracy . "It seems likely that an Internet Porn tax will be subject to judicial scrutiny in a way that a fat tax would not be."
Other scholars note that the Supreme Court in the 1930s threw out a two-percent tax on newspapers, which was aimed at using the government's taxing power to censor opposition press. Another tax case, Minnesota Star v. Minnesota Commissioner of Revenue, was rejected by the Supreme Court, which ruled that it was illegal to tax paper and ink products used by newspapers.
To try to circumvent these well-established precedents, Lincoln's bill is narrowly tailored. The bill applies only to online porn sites which are already subject to intensive record-keeping requirements — as to the age and identity of the persons who appear in the online content as models or actors. To further narrow the law, and prevent children from accessing the sleazy sites, the bill requires online porn merchants to verify the age of the visitor — even before free images or other content are shown. This will be accomplished by requiring credit card companies to process only those transactions which are submitted by consumers whose ages have been verified.
FTC Empowered
The bill indicates that violations of the rules will be prosecuted by the Federal Trade Commission, the government's anti-fraud agency.
Taxes levied on the Web sites will be sent to an Internet Safety and Child Protection Trust fund at the Internal Revenue Service. Portions of the funds raised through the tax will be used for sex crime prosecution at the Justice Department, and some will be allocated through a competitive grant process to non-profits to support work that promotes Internet child safety.
Many ISPs are already cracking down on Internet porn. Recently, Yahoo shut down all its user-created Internet chat rooms, citing concerns that pedophiles were soliciting minors there — enticing them with Internet porn.
"Currently, there are over 300,000 pornographic Web sites," said the National Commission for the Protection of Children and Families, a lobbying group in Washington D.C., in a statement. "This number is growing every day."