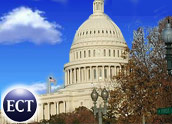 Several major U.S.-based Internet firms were called before Congress to discuss their role in censoring Web content in China, a key growth market for the companies, which say they have to abide by local rules.
Representatives from Google, Yahoo, Microsoft and Cisco Systems were among those that testified Wednesday before the Congressional Subcommittee on Global Human Rights.
The companies, in prepared testimony, asked for guidance on how to work in what they called a challenging marketplace.
Dealing With Censorship
Google's Elliot Schrage said, "The requirements of doing business in China include self-censorship, something that runs counter to Google's most basic values and commitments as a company."
Earlier this month, during a briefing that the Web firms were invited to but did not attend, one lawmaker accused them of "caving in to Beijing's demands for the sake of profits."
Meanwhile, the focus on the China question ramped up elsewhere, as the U.S. State Department said it would establish a task force meant to help companies protect freedom of speech online in foreign countries and help them formulate responses to demands from governments such as China's to censor Web content.
Under Secretary of State for Economic, Business and Agricultural Affairs Josette Shiner said the task force will "consider the foreign policy aspects of Internet freedom, including the use of technology to restrict access to political content and the impact of such censorship on U.S. companies.
"The task force look to ensure that our concerns are being raised at all levels with governments and international organizations," she added.
Internet companies said the approach would help by changing the nature of the discussion to one between governments rather than one between a government and a business attempting to do business under its rules.
Several Web companies have lamented the restrictions China places on Internet freedom, but most have said they must comply in order to avoid being banned from operating in the fast-growing economy. They also argue that their very presence, even in a restricted way, is a benefit to open public discourse and over time will encourage more democratic policies and personal liberties.
Hostile Environment
In a speech last month, Microsoft Chairman Bill Gates said the Web has been a tool for progress in China. "I think it is contributing to Chinese political engagement," Gates said. "Access to the outside world is preventing more censorship."
In fact, as a practical matter, total censorship will grow increasingly difficult over time as more Chinese become connected to the Web, he added.
The Congressional inquiry is being led by Republican Chris Smith, who chairs the committee and who has been critical of the Web firms. Smith gave permission for some journalists to produce live blogs from the hearings, a move seen by many as designed to emphasize the level of free and open speech enjoyed by U.S. citizens.
In contrast, China has put restrictions on Internet companies that want to do business in China. Microsoft recently drew the ire of free-speech groups by censoring a Weblog at the behest of the government, and Yahoo and Google have made modifications to their search tools to screen out sites that contain certain words, including references to Tiananmen Square and other grass-roots democratization efforts.
"It is important to note that the freedoms that we enjoy in America allow individuals to publish information and news on the Web unfiltered — even from within the walls of Congress," Smith said. "Those freedoms do not exist in China and individuals who attempt to speak freely are imprisoned and even tortured, and U.S. corporations should not be aiding in that process."
As the hearings got underway Wednesday, the Web companies were under fire from lawmakers on both sides of the aisle. California Democrat Rep. Tom Lantos said the Internet firms were engaged in a "nauseating collaboration with a regime of repression."
It remains unclear what steps if any Congress can or would take to sanction companies for their China dealings. The position of the U.S. has vacillated over time about whether free trade and free market dealings will help thaw China's icy stance on human rights over time.
Web companies could be seen as a tool to help spur more open communications, since the Internet offers instant access to information from around the world and could bring dissenting viewpoints to millions of Chinese.
So far, however, China has laid out strict ground rules for Web companies wishing to operate there and has shown little sign that it will change its tune over time.
Help From Above?
Some see the government's involvement as a potential benefit to Web companies, since diplomats from the U.S. and elsewhere may be better positioned to convince China to change its ways.
In order to get that benefit, the companies are likely to have to endure public criticism and potential dings along the way. Yahoo, Google and Microsoft have all come under fire from free-speech groups for their decisions to do business in China under current rules.
The Center for Democracy and Technology (CDT) said only when private companies and democratic governments work together will there be any real progress.
If those groups do not come to some consensus about the best way to handle the China question and band together to press for progress, an opportunity may be missed, said CDT Executive Director Leslie Harris.
"While no U.S. company acting alone can resist China's demands, companies that do business in China must push back," Harris said. "We are certain that no progress can be made without a common approach."