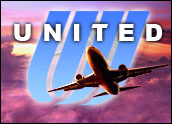 A computer failure at United Airlines prevented the takeoff of all the air carrier's flights worldwide for about two hours on Wednesday.
Flights scheduled to depart between 9 a.m. and 11 a.m. EDT were grounded, causing backups and delays around the globe. Twenty-four domestic flights were canceled, and approximately 268 domestic and international flights were delayed by an average of about an hour and a half, United spokesperson Robin Urbanski said.
"We are very sorry for the inconvenience today's computer outage caused our customers," Urbanski said. "We continue to work hard to resume operations by tomorrow morning, and kindly ask for our customers' patience."
Many, Many Passengers
Indeed, tens of thousands of passengers were potentially affected by the problems, George Hamlin, managing director for Airline Capital Associates, told the E-Commerce Times.
"It is very unusual for an airline to shut down operations for two hours from something that's not related to weather or a natural disaster," he commented. "Even weather doesn't usually shut things down worldwide. I can't remember anything like this ever happening."
Passengers scheduled to travel on United should check the status of their flight on the company's Web site before going to the airport, Urbanski advised.
One-Time Glitch
United Airlines officials were working to determine the cause of the computer problem Wednesday, but at press time the root of the failure was still unknown, Urbanski said.
"This is the first time they've had a problem this big, and they have no idea what caused it," Darryl Jenkins, an independent aviation consultant, told the E-Commerce Times.
Flights were grounded because federal regulations dictate that no airline flight may take off unless certain tasks have been performed, and the computer that crashed was responsible for those tasks, he explained.
"It's a one-time glitch," Jenkins said, "and certainly not a happy time."
Recovery Time
It will take a full day at the very least to get operations back to normal, added Donald Schenk, president of Airline Capital Associates. "Airplanes are flying full, so there's a huge backup in the system as a result," he told the E-Commerce Times. "It could take even more than a day to get everything back in line."
Domestic flights will be easier to get back on track, Hamlin noted, since often the airline can simply operate flights later in the day. Internationally, however, with operational time limitations and more complex systems, "it may be necessary to do a restart and miss some flights altogether," he said.
The financial cost for United will be considerable. Given that a flight on a "narrow body" airplane such as an Airbus 320 or Boeing 737 brings in revenues between US$15,000 and $20,000, and that United operates roughly 4,000 flights per day, "these things are very costly to the airline," Jenkins said.
Consumer Response
Reparation costs such as hotel stays for customers who were stranded will only add to that burden.
Indeed, the cost in customer goodwill United experiences will likely depend on the company's response throughout the course of the day.
"This will cost United a lot of money to fix, but it's too soon to tell the impact on customer goodwill," Hamlin said. "A lot of it will depend on how the company handles re-accommodations for passengers. If people are stuck two or three days, they won't be happy. If it's more expeditious, it won't be a big deal."
The Long Run
In the long run, the event may not have much impact on the United brand. "People today generally buy tickets based on price, so I don't think this will have any lingering financial impact or effect on the brand," Schenk said.
People also tend to recognize that computer crashes can happen to anyone, he added. "Computers crash — it's nothing to do with the airline's fundamental safety," he said.
In general, "one-time events like this don't usually have a big effect on consumer perceptions," Jenkins agreed. "I doubt there will be any serious long-term consequences."
Shares of United were up 80 cents, or 2.11 percent, in Wednesday afternoon trading.