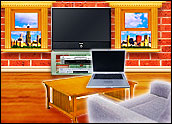 The cable industry's new rallying cry may indeed be "TV Everywhere," as announced Wednesday by Comcast and Time Warner executives. However, TV arguably is already everywhere — on the Web, on your smartphone, on your Xbox 360. Perhaps what Brian Roberts and Jeff Bewkes really meant to announce was "Pay TV Everywhere."
Roberts and Bewkes, CEOs of their respective companies, appeared in New York together to say they would begin testing an "on-demand online" service for 5,000 Comcast customers beginning in July.
Those customers would be able to watch episodes of certain TNT and TBS programs shortly after they appeared on their cable networks. Key to this possible new strategy is authentication: The companies will set up a system that will allow consumers to prove that they already pay for those shows as cable or satellite customers before they can view them on a computer or a mobile device.
Comcast, the top U.S. cable company in terms of subscribers, is branching out into new territory in response to the success of free TV online services such as Hulu — begun by broadcast networks Fox, NBC and ABC/Disney — as well as the licensing deals worked out this year between content providers and YouTube.
57 Channels and Nothing's On
Then there is the music industry's decade-long nightmare as digital technologies wrought its transformation. The lesson: Try to keep from losing every bit of revenue you have left because of changes in viewer habits brought about by the Internet, suggested Phil Leigh, senior analyst at Inside Digital Media.
"Without a doubt, that's exactly what they're attemping to do here," Leigh told the E-Commerce Times.
However, "TV Everywhere" is doomed to fail, in Leigh's view, "because consumers are going to want to have unfettered access to the Internet, and this essentially enables them to watch these shows only if they are subscribing to cable — and gradually, people are going to drop their cable subscriptions in favor of Internet subscriptions."
That will certainly be the case as long as Hulu continues to add viewers and YouTube keeps making content deals, he added.
"I think the attempt to lock all of this into cable TV subscriptions will be self-defeating, because it creates an opportunity for new programming to originate on the Web," Leigh said. "It's increasingly becoming a cliche: There are 400 cable channels on and nothing to watch. These cable operators are overestimating the value of their programming. A lot of what you want is already on the Internet."
The Rules of Cable's New Road?
Both Roberts and Bewkes made it clear that Wednesday's press conference was more about laying out the "guiding principles" of the new strategy than it was about specific technologies or revenue models. Much of that will come later, they said.
What was important was to set the foundation for on-demand success online. That foundation should include more content across more platforms; no additional charges for subscribers; access via any broadband connection; making the best, highest-rated content available on easy-to-use Web sites; and establishing a new process for measuring online viewing so future advertisers can get the best return on their investment.
Hulu already has the advantage regarding advertising, observed Leigh, because the service doesn't have to set aside time for cable or local TV affiliate ads.
"That saves them about six minutes an hour," he pointed out. "On top of that, the commercials that come across Hulu — you can't fast-forward through them. The consumer has to watch them, and that's higher viewership. And they can use non-disruptive ads, like overlays. TV can't do that."