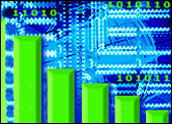 After enjoying a holiday bounce, the U.S. video game industry came crashing back down to Earth in January with post-Christmas double-digit drops in hardware and software sales, according to the latest figures from industry researchers NPD Group.
However, new gaming categories for casual, social media and smartphones may offer a glimmer of hope for companies still stuck in a recessionary swamp.
Console sales totaled US$353.7 million, a 21 percent drop compared to $446.8 million in Jan. 2009. Nintendo's Wii topped all other consoles with 465,000 units sold, followed by the company's DS handheld model (422,000), Xbox 360 (332,000) and Playstation 3 (277,000).
Video game software sagged 12 percent to $597.9 million; a year ago, sales were at $682.6 million. That's despite the heavily hyped launch last month of "Mass Effect 2," which was No. 2 on the chart for the month's best-selling titles with 572,000 units sold. "Super Mario Bros. Wii" held on to the top spot with 656,000 units sold. However, "Mass Effect 2" was the only new title of significance to hit the market last month; February's totals will include "Bioshock 2" and "Dante's Inferno," the latter game benefiting from a well-positioned Super Bowl commercial that aired during the game's two-minute warning.
So what to read into January's figures? "The fact that we had such a good December — basically companies front-loaded sales," said Michael Goodman, director of research and analytics at Mercury Media. "Any time you have a particularly good month, you increase the likelihood you're going to have a sales hangover the following month." Calling 2009 a "bad" year for the industry because of the recession may not take into account 2008's record-setting pace, he added. Also, "we had price cuts across the board in consoles (in 2009). You could sell 20 percent more product and still see less revenue."
New Gaming Arenas and Platforms
Although NPD doesn't currently release figures on social media, casual and smartphone games, those new platforms are getting a lot of attention within the industry and in the gaming press. Microsoft is rumored to be in the hunt to purchase CrowdStar, a maker of games for Facebook, according to a Bloomberg report.
Yet 10 years ago, Microsoft had a chance to own the game that would go on to provide the foundation for a Seattle-based leader in casual games. At the time it was developed by Jason Kapalka and some developer friends, it was called "Diamond Mine," and it represented the initial effort for a new company called "PopCap Games."
"We were hoping maybe somebody would buy it outright for $20,000 to $30,000," Kapalka told the E-Commerce Times. "But Microsoft offered us $1,500 a month to license it from us on their Web site. We thought it was better than nothing. If they had offered us $25,000 to $30,000, everything would be quite different now. The best thing they ever did was to refuse to pay us a flat fee."
That's because "Diamond Mine" would go on to success under another name – "Bejeweled" – and in the 10 years since its debut, the highly-addictive game has been downloaded 350 million times into home and (more likely) work PCs. It helped put PopCap into the upper tier of casual game makers; PopCap now provides games for consoles and is branching out into social media and smarthphone games, but Kapalka sees casual as the salvation for the industry.
"To some extent, casual games — the types we do — are like the Walmart of retail," said Kapalka, now PopCap's chief creative officer. "They're more affordable than a lot of comparable games or entertainment products. People continue to shop at Walmart during recessions. People still need entertainment and are willing to spend money on it. They're just being more careful on how much they spend. For a company like us that's focused on cheaper entertainment, that meant we would be OK."
Expanding the Gaming Audience
The new platforms of social media and smartphones — as well as the existing casual games put out by the likes of PopCap and Big Fish Games — do represent opportunity and hope for the industry, Goodman agreed. "But you have to broaden your definition of what the industry is," Goodman told the E-Commerce Times. "Casual games are a different animal than console games or good old PC games. They tend to skew older, they tend to skew female. And I think smartphone games, in particular on the new touchscreen phones, really ought to be a category all to themselves. It comes back to demographics, particularly when you look at iPhone games. You're seeing a reemergence of kids and teens and young adults in games."
Touchscreen games on iPhones or Android phones are really additive, not cannibalistic, to console or existing handheld products, Goodman said, because of the interactivity issues. Kapalka, meanwhile, is anxious to see if the Apple iPad will be a successful gaming platform. He has some doubts about social media games; he realizes the huge opportunity but doesn't like the trend toward spamming friends to get ahead in games like "FarmVille" or "Mafia Wars." "You can either advance in the game and annoy your friends, or do worse in the game but not spam everybody you know. That's not a good way for a game to grow, by forcing you to lose your real-life friends to advance," Kapalka said.