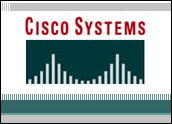 Internet and networking gear maker Cisco Systems posted sharply higher profit for its third quarter, but investors disappointed by the company's outlook sent its stock sharply lower Wednesday.
Cisco earned US$1.9 billion, or 30 cents a share, up 34 percent when compared to the $1.4 billion the San Jose, Calif., company cleared in the same time frame a year ago, the company stated. Revenue rose 21 percent to $8.9 billion for the quarter, which ended in late April.
"Momentum remains very strong," CEO John Chambers said. The company's results and those of rivals suggest Cisco is winning more business from existing customers as it has expanded to offer security and related technology, he added. "Our business remains strong."
High Expectations
Cisco's outlook for its fourth quarter revenue called for growth of up to 15 percent. While that's at the high end of a previously forecast range, it disappointed some analysts who hoped to see Cisco post a growth rate of closer to 20 percent based on several factors. The factors include rapid growth in emerging markets such as China and India, and new products and services, such as the interactive TV technology Cisco acquired when it bought Scientific Atlanta for nearly $7 billion more than a year ago.
Cisco's share price dropped 6.5 percent, with the stock falling to $26.53 in late morning trading Wednesday.
Investor reaction may be a sign that expectations are too high for Cisco because of the string of blow-out quarters, said American Technology Research analyst Shaw Wu.
"Investors want to hear that not only will growth continue but that it will accelerate, and when Cisco didn't say that, some were disappointed," Wu told the E-Commerce Times. "In some ways, it's a victim of its own recent success."
The results don't show any weakness in tech spending from major carriers or enterprise customers, which may have been a concern for some given recent uncertainty about the U.S. economy, he added.
The New Cisco
As one of the top networking gear makers, Cisco has long been considered an important technology sector bellwether, with its performance offering a glimpse into the relatively strength of the IT market as a whole.
Today's Cisco is far different, however, with a hand in home networking through its Linksys division, and in television set-top boxes through Scientific Atlanta.
In fact, demand for networking equipment that can deliver video is driving the company's growth, Chambers said.
"Video continues to drive network demand," he noted.
The Scientific Atlanta business, which sells video distribution networks as well as set-top boxes, contributed $752 million in sales during the third quarter of 2007, compared with $407 million during the third quarter last year, according to Cisco.
Other areas of the business were strong as well. Sales of switches and related gear rose 15 percent to $3.1 billion, while router sales rose 16 percent to $1.8 billion. Sales of high-end CRS-1 routers, which are used by telecom network operators to handle Web traffic, were also strong, Cisco said, with $250 million worth of orders coming in during the quarter alone.
While Chambers argued that double-digit growth is impressive for a company of Cisco's size, investors seemed to be growing concerned that the stock price has risen too fast given the pace of sales growth. Cisco shares have risen some 65 percent over the past year amid optimism that bandwidth-hogging Web 2.0 innovations such as video- and photo-sharing sites and enterprise demand for video networking capabilities would push Cisco revenue even higher.
Sales of Cisco's high-end CRS-1 router, which allows large network operators such as Sprint Nextel or Deutsche Telekom to handle huge volumes of Internet traffic, are sizzling, Cisco stated.
Growing and Buying
Cisco has not shied away from using acquisitions to fuel its growth. Earlier this year it bought IronPort in a bid to beef up its security offerings and more recently it said it would pay $3.2 billion for Internet video conferencing company WebEx Communications.
That move underscores one of Cisco's long-term goals — to move beyond the core of the network and be seen as a trusted supplier of software and related services, said Gartner analyst Matthew Cain.
WebEx has already begun to be used as a platform for delivering more than just conferencing, with other collaborative technologies delivered as a service, he noted. Cisco also picks up a well-known brand in many enterprise circles, Cain added.
"The high degree of name recognition that the WebEx brand enjoys with business users will be particularly helpful to Cisco in its push into the software as a service market," he said.
Though 10 to 15 percent growth is not enough for some, with strong core growth, more sales to new markets and continued targeted acquisitions, Cisco should be able to post such double-digit growth rates for "the next several years," Jefferies & Co. analyst Bill Choi wrote in a research note.
Choi cites "favorable market share dynamics across all major product segments and a successful strategy of creating new businesses around adjacent markets."