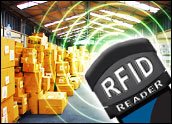 Cisco Systems has unveiled networking software and services that it says will make the implementation of radio frequency identification (RFID) solutions more cost-effective for enterprises.
The new products include middleware solutions meant to help integrate RF solutions into existing Cisco networks and make Cisco just the latest technology company to launch products into the RFID market. Microsoft has already debuted a middleware RFID solution and this week AT&T announced a plan to conduct a test of its own RF solution starting early next year.
Next Generation
In fact, the standards group that certifies RF products, which are meant to make it easier to track goods and materials from production to retail sale, announced it had certified a slew of new hardware and software designed for second-generation RFID deployments.
EPC Global said it certified one new RF tag and nine tag-reader systems under its Gen2 certification program, which is meant to bring more advanced technology to market.
While RFID has long been touted as having enormous potential to reduce costs in manufacturing and retail as well as boost security, most adoptions to date have been seen being driven by requirements from major retail chains, notably Wal-Mart, which instituted a policy requiring all suppliers to be RFID-ready.
Many analysts say businesses will invest more heavily in RFID eventually, but that IT budgets are still tight enough that major investments in sweeping new systems won't take place until businesses can identify benefits and clear paths to having their investment pay off.
Second-generation RFID is meant to overcome a number of limitations now seen blocking adoption, including global compatibility. First-generation tags that originate in the U.S. cannot be read in Europe with existing technology, for instance.
Testing Period
Others to launch new or upgraded products this week include SAP, TrueDemand Software, Inc., ThingMagic, Inc. and HP, which said it had teamed with electronics maker Philips on Gen2 offerings.
AT&T said a handful of firms will test its solution in a 90-day trial starting in January and some analysts say the arrival of telecommunications companies such as AT&T in the space could be significant.
"Telcos have stacks of experience in handling large volumes of business-critical data, and they know highly distributed networking better than most," said Forrester Research principal analyst Christine Spivey Overby.
Likewise, Cisco is hoping its deep penetration in the networking space will make it a logical partner for RF activities. Its solution involves an array of products and services in both the wireless and fixed network spaces as well as products from partners that specialize in RF.
Going Slow
Analysts say only the enterprises that can see immediate and clear payback will rush into RFID deployments.
"People do not want to make these sweeping kinds of changes unless absolutely necessary because it's disruptive, it's costly, and it's time-consuming," Yankee Group senior analyst Laura DiDio said.
She said many vendors, including Microsoft, will offer up products just to keep a toe in the space, but aren't necessarily making a hard push just yet.
"There are a lot of people who are in this market — Microsoft, Oracle, IBM, SAP — and they all have different angles toward the business," Didio said.