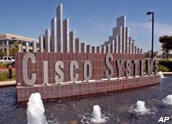 Shares of Cisco Systems and Nokia were both trading higher today after reports that Cisco was weighing a move to take over all or part of the mobile equipment maker in a bid to boost its ability to provide both fixed wire-line and wireless services to its stable of enterprise customers.
Neither company would comment on the reports, which originated in a British newspaper over the weekend. The newspaper, Sunday Business, said that Cisco CEO John Chambers believed that a wireless acquisition made sense and that Finland-based Nokia was the most logical target.
Despite its high profile, Nokia is the smaller of the two companies by market share, with Cisco valued at around US$123 billion compared to $71 billion for Nokia. Cisco has long been sitting on a cash stockpile of about $5 billion that has given rise to numerous takeover rumors in the past.
Handsets Versus Gear Business
In fact, rumors of Cisco eying Nokia have circulated in the past, most recently in February of this year. The two are far from strangers, having struck various partnerships, most recently forging a deal that will enable Nokia wireless gear to swap VoIP traffic with Cisco routers.
One question analysts say must be answered to give the takeover rumors validity is whether Nokia would be willing to divest itself of its gear business, leaving primarily its handset operations behind.
While it is a leading maker of handsets and is especially well positioned in the growing smartphone arena, the company might weaken itself by specializing so heavily. In fact, sales of its wireless networking gear to enterprises and telecoms might help drive sales of Nokia handsets.
Many analysts say the most unlikely scenario is for Cisco to take over all of Nokia. For one thing, the cost would likely be too high for Cisco to handle. Moreover, analysts say there is little true synergy between routers and related gear and handsets.
Reasons Clear
Still, even skeptical analysts said the motivation for a move to acquire the gear-making portion of Nokia, which one analyst said was worth around $8 billion a year in sales, is clear.
Cisco is a leading provider of networking gear to both telecom companies and enterprises that operate large networks through which they send both data and voice traffic. Both classes of customers are eager for new solutions that enable them to make the most of wireless. In the case of enterprises, companies are seeking to use mobile data and voice to increase efficiency, while phone carriers are constantly looking for new ways to enhance revenues.
Other analysts said the move would make sense because it would boost Cisco's international presence. Although the company sells worldwide, having Nokia on board would give it instant credibility as a wireless provider in places such as Europe and Asia.
The trend of technology firms buying wireless firms with strong technology certainly would be nothing new. For instance, although the scale is far different, AOL has announced it will buy Wildseed, a niche phone accessory and software maker whose interchangeable face plates and other features have been a hit with younger consumers.
Merger Tested
Cisco has made major acquisitions in the past, some of which have come to be viewed as home runs. Most notable on that list is the $500 million buy of Linksys, which became the foundation for Cisco's family of consumer- and home-office wireless networking products, a market that has exploded in the years since the 2003 purchase.
Enderle Group principal analyst Rob Enderle noted that Cisco has a history of making strategic purchases that give it access to technology that would take longer to build in-house. However, most of those earlier acquisitions are targeted, niche buys with smaller price tags.
"Cisco has not hesitated to go into the market to buy the technology it felt it lacked to keep its throne as a networking powerhouse," Enderle told the E-Commerce Times.
Cisco has no doubt seen the need to better blend mobile and wired networking from customers and might be seeking a way to become more of a comprehensive supplier of such solutions. Still, Enderle said any deal of the size Cisco is contemplating has enormous risks for both corporate culture and customer impression of the company.
One firm that follows Nokia, Dresdner Kleinwort Wasserstein, said it sees only a 5 percent chance of a deal going through with Cisco buying all of Nokia, and said the synergies are few while there are many "unpalatable combination risks" in such a merger.