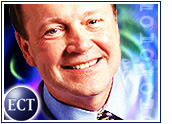 The high-tech industry breathed a collective sigh of relief Tuesday as Cisco reported that its third-quarter operating profit more than tripled to $838 million from the year-ago period. The company also booked a net profit of $729 million, compared with last year's net loss.
"From an operational perspective, this quarter was a home run," Cisco CEO John Chambers said.
That is good news for the networking giant, which had trouble getting even a base hit last year.
But Giga Information Group analyst Lisa Pierce told the E-Commerce Times that Cisco's impressive showing does not mean the rest of the industry is gathering steam.
"A lot of the evidence points to the telecommunications industry not starting to recover until 2003," Pierce said. "Cisco by itself cannot raise the tide."
Darkest Before Dawn?
As the economy slid into the doldrums last year, Cisco released mostly dismal news.
For example, the company failed to realize an increase in sales for five consecutive quarters. As a result, it was forced to take drastic cost-cutting measures and lay off thousands of employees.
Cisco stock fell by about 66 percent over the course of the year.
Change of Fortune
In a welcome change of fortune, the company's third-quarter sales rose 2 percent to $4.82 billion, surpassing the $4.73 billion mark set in the same quarter last year.
Even more impressively, Cisco beat Wall Street predictions with a net profit of $729 million, or 10 cents per share. In comparison, the company logged a net loss of $2.7 billion, or 37 cents per share, in last year's third quarter.
Pro forma profit for the quarter swelled to $838 million, or 11 cents per share, up from last year's $230 million, or 3 cents per share. Wall Street analysts had predicted the company would show a third-quarter profit of 9 cents per share.
Although generally positive, the news was not uniformly good. Cisco's $4.82 billion in revenue, while up from last year's numbers, fell short of analysts' projections of $4.87 billion, partly because product revenue dropped 0.3 percent to $3.99 billion.
No Rose Garden Yet
Cisco's earnings report provided enough force to propel some Asian markets upward.
But despite the company's heartening results, Chambers did not make rosy predictions for Cisco or for the rest of the computer industry, noting that customers are still being stingy with their budget dollars.
He said he expects network spending will increase as the economy rebounds, but that the fourth quarter will be mostly flat compared with the third quarter.
"At the present time, the vast majority of our enterprise customers have very tight control on their capital spending," Chambers said in a conference call.