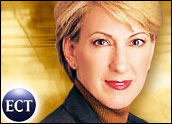 Active Voice Corp. (Nasdaq: ACVC) was among the few Nasdaq winners Friday, rising 4 1/8 to 19 1/16 after the messaging software maker agreed to be acquired by Cisco Systems, Inc. (Nasdaq: CSCO) for about $266 million in stock.
Cisco, which fell 3 3/16 to 50 1/16, said the acquisition will help it "deliver unified communications and a single, end-to-end Internet Protocol (IP) network combining data, voice and video for the corporate enterprise."
In addition to paying $266 million for Active Voice's IP-based messaging operations, Cisco will pay about $30 million in stock for the company's circuit-switched voicemail division, which it will then sell back to Active Voice employees for $30 million.
Cisco, which expects to complete the acquisition in the second quarter of next year, will take a one-time charge for the agreement of not more than 2 cents per share, which will cover research and development expenses. Both companies' boards approved the plan, which now goes to Active Voice shareholders for a vote.
Cisco said Active Voice's Unity product line complements its IP-based voice technology by helping unify text and voice messages. The deal "brings Cisco a step closer to delivering unified communications solutions that will help enterprises enhance employee productivity, lower cost of ownership, and provide better customer care," the company said.
Active Voice, based in Seattle, has offices in Australia, Canada, China, France, Germany, Italy, Sweden, the Netherlands and the United Kingdom, and sells its products in more than 60 countries.
Cisco has been on an acquisition binge this year, part of a plan to diversify its offerings. The Active Voice deal was reported by some news services as Cisco's 19th this year, and by others as the 21st.
Separately Friday, Active Voice said its net loss for the second quarter ended September 30th was $2.4 million, or 22 cents per share, on revenue of $13.9 million.