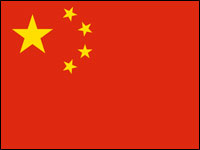 China is developing a homegrown operating system that could be ready as soon as October as part of an effort to wean itself from Western-made software, according to a Sunday report from the Xinhua government news agency.
Following hard on the heels of China's announcement last month that it had launched an investigation of Microsoft under the country's antimonopoly laws, the latest news suggests the new operating system first will appear on desktop devices and then be extended to smartphones and other mobile devices in three to five years.
The now-defunct Red Flag Linux software could be part of the new OS, according to Computerworld.
Western OS makers Microsoft, Google and Apple were specifically targeted in China's plans, noted Xinhua, whose report is based on a story in the People's Post and Telecommunications News, a publication run by China's Ministry of Industry and Information Technology.
China officials earlier this year banned the use of Windows 8 on government computers.
'A Hard Sell'
"This is not the first time that the Chinese government has announced grand plans to replace the dominant 'Western' computing platforms," Bill Weinberg, Black Duck Software's senior director for open source strategy consulting, told the E-Commerce Times.
"A decade ago, they invested heavily in Linux-based desktop and server offerings from Red Flag, even mandating their use in government ministries and agencies," Weinberg explained.
"The government also funded numerous startups and programs at existing Chinese software companies to provide support, applications, etc.," he noted.
"While this program was highlighted as an example of OSS adoption, its actual impact was very limited," added Weinberg. "At the time, the primary impetus was cost, and given that Windows XP at the time was for most intents and purposes free in China, a Linux-based platform remained a hard sell."
'They Don't Like Paying'
Part of China's motivation is that "they don't like paying," Rob Atkinson, president of the Information Technology and Innovation Foundation, told the E-Commerce Times. "They have a strange view that says paying licensees for software and/or IP is somehow unfair and a form of Western imperialism being imposed on them."
A second reason behind the nation's desire for technological independence is a military one, Atkinson added. "Those two factors are leading them down a path where they want to replace Western technology with their own."
Another effort within the nation targets the semiconductor industry and aims to replace Intel technologies, he pointed out.
The move is "pretty obviously an effort by the Chinese government to increase their ability to both surveil and censor," Berin Szoka, president of the TechFreedom think tank, told the E-Commerce Times.
'A Loss of Potential'
Given the prevalence of software piracy within China, it's not clear how much of a financial threat China's move is to the Western companies being targeted.
"The amount of piracy for Microsoft products in China is so astronomical — even in central government agencies — that I think for Microsoft, the loss is more a loss of potential," Atkinson opined. "This is assuming the plan actually works."
Of course, China is a rapidly growing economy, and typically, "when economies get more wealthy, they shift away from piracy. So in theory, in say 20 years, China should be Microsoft's largest market," he pointed out.
"I don't think it has a lot of direct financial impact on Microsoft, as it has been challenging for Microsoft to monetize the use of its products in China anyhow," said Al Gillen, program vice president for servers and system software with IDC.
"As for Google, there may be some impact from the Android app store, but that is the biggest potential concern," Gillen told the E-Commerce Times.
Then again, "if consumers in China choose to not follow the OS vendors, it could be a wasted effort," he added.
'Opportunities for New Vulnerabilities'
Besides the question of acceptance, other potential problems with China's plan could revolve around interoperability and security.
"They want to avoid the potential that an exploit could be put in place by 'malicious' governments like ours, but the irony is, when you reinvent the wheel, you create new opportunities for new vulnerabilities," Wes Miller, research vice president with Directions on Microsoft, told the E-Commerce Times. "They could wind up creating a bigger attack surface than if they had just bought something."