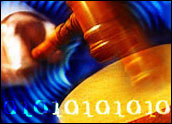 Officials in Chicago, Illinois have filed a lawsuit to shut down Voteauction.com, a site that lets citizens auction their votes in the upcoming U.S. presidential election to the highest bidder.
The suit, filed by the Chicago Board of Election Commissioners in Cook County Court, alleges that the site is committing a felony under state and local laws that make it illegal to buy or sell votes. The Board wants the court to declare the site illegal and issue an injunction against its future operation.
"No matter what their motivation for creating this site, whether it be as a parody or for financial gain, they have impugned the integrity of our electoral system," said Langdon Neal, chairman of the Board. "I caution all voters that they will be committing a felony under state and federal law if they participate in this scheme."
Defendants in the suit include site creator James Baumgartner, a political science graduate student in New York; Hans Bernhard, an Austrian investor who currently owns the site; and Domain Bank, a Pennsylvania company that provides data processing and preparation for the site.
Checkered Past
Voteauction.com created controversy within days of its August launch when the New York City Board of Elections filed a cease and desist order demanding that Baumgartner take the site down. Baumgartner complied and sold the site to Bernhard, who then relaunched the site.
When the site reopened, Voteauction.com suspended bidding on votes in both New York and California, where Secretary of State Bill Jones announced that the state was launching an investigation into the Web site.
Said Jones, "We have an absolute zero tolerance policy for voter fraud in California. My election fraud investigation unit is looking into the recent reports of Internet-based vote buying schemes, will be monitoring Web sites for suspicious election activity and will forward any information they find to the appropriate prosecutors for immediate action."
The day after Chicago officials took action, the following message appeared on the Voteauction site: "Due to pending litigation in Illinois, Voteauction.com has suspended registration for residents of Illinois. We will keep you updated on the progress of pending legal action."
Absentee Votes
The site, whose motto is "Bringing Capitalism and Democracy Closer Together," said that votes from each state would be sold as a bloc and that the winning bidder would choose how the group voted.
Voteauction.com claims that it does not receive any money from the auctions. The site's protocol calls for winning bidders to contact the voters to make arrangements for payment, and for the voters to provide verification of how they voted.
There is no indication of what form ballot verification would take or how the winning bidder would enforce the contract. However, Chicago election officials suspect the plan was for voters to register to vote absentee and then mail the ballots to the winning bidder.
"The fact is that this is the one area in the electoral process where we know fraud could occur," Neal said. "You can't guarantee how someone is going to vote when they are in a supervised polling place, but absentee voting presents a real problem."
Valuable Votes
Not all votes are created equal, at least as far as remuneration is concerned. As of Tuesday afternoon, Voteauction.com had the votes of over 21,000 Americans on the auction block, with a total selling price of over $260,000 (US$).
Prices for votes range from $3.57 in Louisiana, where there are 63 votes on the auction block, to $22.73 in Michigan, where 1,429 votes are for sale.
Before sales of Illinois votes were suspended, there were 1,632 votes for sale at $12.38 apiece.