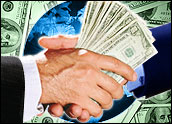 Citing strong interest from multiple potential buyers, Cendant said Monday it is now considering selling its travel services division, which includes the Orbitz and CheapTickets Web sites.
The sale of the unit is being mulled along with a previously announced plan to spin off several of its business lines as a way of reducing debt and reviving its lagging stock. Cendant grew rapidly through acquisition and has yet to realize the payoffs it envisioned from the combinations.
In addition to the two Web-based travel businesses, the travel services unit, now known as Travelport, also includes the Galileo electronic reservation network used by travel agents and a travel agency, Gullivers Travel Associates.
Chairman and CEO Henry Silverman said the company has received "a number of unsolicited indications of interest." He said the decision to consider a sale was made after the company ensured that it would not take a tax hit from any windfall tied to a sale; such a tax liability limits Cendant's ability to sell other business lines, he noted.
Plans remain in place to spin off Cendant's real estate unit, known as Realogy Corp., and its hotel unit, under the Wyndham Worldwide brand. That would leave the Avis car rental business as a standalone company.
New Leadership
Cendant also announced that guiding the travel line until a sale is completed will be CEO Jeff Clarke, a former chief financial officer at Compaq Computer who helped integrate that company into Hewlett-Packard, and Chairman Gordon Bethune, the former CEO of Continental Airlines.
Bethune said his goal of "driving growth and value in a highly integrated global travel company" can be achieved with or without a sale with the pieces in place to achieve growth targets in "either the public or private arena."
Cendant has seen its results dragged down by losses from its travel unit, which helped drive down fourth quarter results announced in February. Since then, Cendant stock fell to a 52-week low of around US$15.
On news of the possible sale, the stock roared higher by 3.5 percent to $17.44.
Changing Landscape – Again
Just as acquisitions were the name of the game in the online travel space three to four years ago, spinoffs have taken hold more recently. Expedia was spun off a year ago by IAC/InterActive, for instance.
Expedia, Travelocity and Pricelineare among the major competitors for the controversial Orbitz, which many travel companies fought the formation of by the major airlines, and CheapTickets. Priceline, which has struggled with its name-your-price model, has been seen gaining traction since adding fixed-price sales to its menu.
Cendant scooped up Orbitz in the fall of 2004, paying $1.25 billion in cash for the site, which at the time ranked third behind Expedia and Travelocity, a move that gave Orbitz access to significant resources to help it compete.
The decision to spin off or sell the travel businesses makes sense, since some key suppliers may have a perception that Orbitz and CheapTickes may be less than objective when it comes to selling travel services such as hotel rooms and rental cars, which Cendant also has a hand in, Forrester Research analyst Henry Harteveldt said.
Splitting up Cendant "will be particularly helpful" to the online travel sites, he added. "As a freestanding unit, it can be better viewed as an impartial — and therefore more attractive — partner to travel agencies and suppliers alike," Harteveldt said.