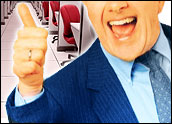 Online retailers and service providers improved their customer satisfaction ratings during 2005 and Web-based retailers continued to do a better job of making buyers happy than their off-line counterparts, according to a new report.
The annual American Customer Satisfaction Index (ACSI) E-Commerce Report compiled by the University of Michigan found that e-tailers' overall customer satisfaction rating rose 1.3 percent in 2005 to 79.6. That came after a slight decrease in 2004.
The survey examined a host of industries, including retail, online brokerage services, online travel companies and auction sites.
Going to the Next Level
Within the online retail category alone, the score was even higher — 81. Retail as a whole actually saw a decline to 72.4, according to the report.
"Some companies have really figured out how to take customer satisfaction to the next level, and the stakes just keep getting higher," said Larry Freed, president and CEO of Web measurement firm ForeSee Results, which partners with the university for the index and used the survey results for the basis of a longer report.
At the same time, customers expect more from Web sites, a fact reflected by the decrease in overall satisfaction rates since their peak at 80 percent three years ago. There is also a growing gap between top-performing sites such as Amazon.com, and those that do not score as well.
"Customers' standards for e-commerce sites continue to rise as the industry matures, and online companies have struggled to keep up with industry leaders and high customer expectations," Freed said.
Leaders of the Packs
Within the retail sector, Amazon.com and Barnesandnoble.com set the bar high for their competitors, the report suggests. Amazon and BN.com both had a 2005 satisfaction score of 87, with Amazon tallying a nearly 4 percent increase from 2004. All other e-tailers scored an 80, as did Buy.com. 1800Flowers.com scored a 77.
In the auction category, eBay outpaced all its smaller rivals, scoring an 81 compared to a 76 for all other auction sites, a 73 for uBid.com and a 71 for auction-style travel site Priceline.com. Freed noted that many would-be competitors have found it difficult to find traction against the auction giant and that eBay can help solidify its position by providing a solid customer experience for both buyers and sellers.
In the online brokerage category, Charles Schwab made the largest gains, climbing to a score of 74, a 4 percent increase. E*Trade Financial had a score of 71, also an improvement over the previous year.
Satisfaction of customers within the online travel category also rose an average of 1.3 percent, with Expedia scoring the best improvement at 3.9 percent to give it a score of 79. Both of its major competitors, Orbitz and Travelocity, saw decreases in their scores, to 74 and 75, respectively.
Gaining Converts
Online retail has used high level of customer satisfaction to fuel its long run of strong year-over-year growth, Forrester Research Vice President Carrie Johnson told the E-Commerce Times.
While there have been problems along the way, online retailers now work hard to ship items on time, to be upfront about potentially hidden costs such as shipping and taxes and to offer Web experiences that help shoppers know what they are buying.
That's especially important now, as e-commerce enters its second, maturing phase, where overall growth will slow, meaning more fierce competition for market share and the same pool of customers. "As a whole, the industry has met consumer expectations, but there's room for improvement," she added.
At the same time, category leaders such as eBay and Amazon fully realize that falling down on the customer satisfaction front would leave openings for competitors to seize upon. So far, Johnson noted, neither has allowed that to happen.