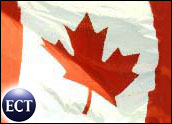 A new study released Monday by the Boston Consulting Group (BCG) shows that Canadians actively browse e-commerce Web sites but are reluctant to spend money online.
The study, "Winning the Online Consumer in Canada," found that a similar percentage of Canadian and American Internet users shop on the Web, but only 43 percent of Canadian Net surfers have purchased goods or services online, as compared with 51 percent of their U.S. counterparts.
Americans are spending more online, as well. The typical American Internet shopper averaged 11 transactions over the last five months and spent approximately $478 (US$). The typical Canadian shopper made five online transactions and spent $150 over the same period.
According to BCG Vice President Peter Stranger, "Canadian consumers are less satisfied with the actual online purchase experience. This is largely due to the fact that the current online purchase experience falls far short of its promise."
Canadian Concerns
The BCG study also shows that Canadians are more concerned than Americans about privacy and security issues, have a higher percentage of failed purchases than their neighbors to the south and are generally more dissatisfied when it comes to the pricing of online products and order fulfillment.
This greater level of dissatisfaction, according to the study, is probably due to the fact that the lack of Canadian e-tailers is driving Canadian shoppers to do a significant portion of their purchasing at U.S. sites, where they must contend with high exchange rates, customs duties and slow deliveries.
"Canadians are primed and ready to purchase from Canadian sites, but with our supply-side deficit, they often end up purchasing from foreign sites, where the experience ends up being frustrating, costly and inconvenient," said BCG Research Director James Vogtle.
Nowhere to Shop
Canadian shoppers seeking favorable prices, familiar brands, and faster delivery are highly motivated to seek out Canadian sites. Unfortunately, they are often disappointed and end up turning to U.S. or other foreign sites, either because they offer better selections and shopping experiences or because there are so few domestic sites to visit.
One of the major stumbling blocks to shopping online for Canadians is the lack of Canadian merchants on the Web.
Many Canadian retailers are unwilling to risk the high startup costs and the potential cannibalization of their existing brick-and-mortar retail outlets to make the online sales channel a strategic priority.
Another reason retailers are wary of going online is that the market size and the population density of Canada make it more difficult for Canadian retailers to achieve economies of scale.
Advice for Canadian Retailers
Advising Canadian retailers to jump on the e-tail bandwagon, BMG's Vogtle said, "The challenge for Canadian retailers will be to satisfy online consumer demand before consumers become attached to foreign sites or get turned off the online experience entirely."
The study provides Canadian retailers with advice on how to succeed online:
Leverage domestic advantage. Canadians want to purchase from Canadian sites, partly because they want access to familiar products and partly out of loyalty. In addition, purchasing from domestic sites means Canadian consumers will not have to contend with high exchange rates, customs duties, and slower, more expensive deliveries.
Partner for power. E-tail partnerships can deliver a broader choice of product categories, enhanced product selection and increased convenience for the consumer. Partnering also provides better economics for e-tailers. They can achieve a better margin mix and leverage economies of scale in site management, inventory management, picking and packing, and customer service.
Build customer loyalty by customizing. E-tailers can personalize the consumer experience by providing relevant, engaging content specifically for Canadian consumers. Given Canadians' concerns about privacy and security, e-tailers can also take steps to help consumers overcome anxieties.
Meet the fulfillment challenge. Canadian e-tailers need to provide fast, reliable and predictable service, including providing options for delivery, tracking of shipments, and hassle-free returns. Because achieving scale will be difficult for any single e-tailer, Canadian merchants will need to consider outsourcing, expanding across categories, or combining their efforts to meet the fulfillment challenge.
The Boston Consulting Group is an international management consulting firm that assists clients in developing business and e-commerce strategies.