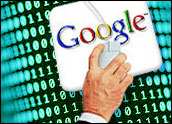 For every traditional media publisher who tries to place Google at the scene of the crime — the death of newspapers — the search giant offers up a new alibi. The latest defense exhibit is Wednesday's announcement of Google "Living Stories," an online experiment that organizes news around a specific topic, and the coconspirators are two of the biggest newspaper names in the country: The New York Times and The Washington Post.
"The goal is to provide users with a broad range of views into the stories they're interested in, whether it's a short update, deep analysis, feature story, video or important quotes," Google News spokesperson Chris Gaither told the E-Commerce Times. "This is currently an experiment in Google Labs. Our aim is to take whatever lessons we learned and tools we develop together, then make them broadly available to any news publishers interested in taking these ideas forward."
As of this writing, there were eight news topics on the Living Stories page, ranging from healthcare reform to the Washington Redskins to local District of Columbia school issues. A click on the "Struggle Over Health Care Reform" link takes you to a page loaded with Times/Post content and topped by a timeline of important events in the healthcare debate. Clicking on a "read more" link under a headline and first paragraph of a story doesn't kick you off the page in order to read the entire item; it simply reveals the full body of the story.
Likewise, a "conversations" box involves the social media aspect by taking you to a graphic showing comments Times/Post readers on various sub-topics within healthcare reform — paying for abortions, the public option, etc.
Google's software also knows where you've clicked before by turning those stories a different shade of blue. "Living Stories automatically track user interactions with the story, helping users get the latest updates to the stories they're following and sift through the coverage in novel ways," Gaither said.
The Next Phase of Online News?
Google Living Stories addresses questions Kathy Gill has been hearing at recent journalism conferences about the need to rethink news stories for a digital news consumer. Gill teaches at the University of Washington's digital media program. "One of the things that's needed is an easy way to provide people with context if they've just now, quote, 'joined the story,'" Gill told the E-Commerce Times. "This is really important when we're talking about things like healthcare or public policy issues that have a long history. This is not like covering a fire at 5th and Broad."
Don't the Times and the Post have their own "theme" or topic sections online, though? How is what Google doing that much different?
"They're related concepts, but different executions," Google's Gaither said. " The lifespan of a Living Story is longer than that of individual news articles as published today and in general, shorter than that of topic pages. For example, 'Sotomayor's nomination and confirmation' could be a Living Story, whereas 'Sonia Sotomayor' would be a topic page; 'AIG bonus controversy' would be a Living Story, whereas 'AIG' and 'Credit Crisis' would be topic pages." Google organizes by story developments, not just by links of articles, and remembers what you've already read.
Show Me the Money
Even though the Living Stories page design follows the usual Google template — simple layout, plenty of white space for potential online advertising — Gaither said that Google has no plans to show ads during the experiment. "If publishers decide to implement Living Stories on their own Web sites, they certainly can." When asked if paywall-protected content would be included in the experiment, he said only the Times and Post were partners but added that Google is hoping to release open source tools "for creating Living Stories that any news organization can use." No one at Google is determining the content for Living Stories. The search company is only providing software and algorithms.
Is there anything besides ad placement in Living Stories that could open up a new revenue stream for money-starved media outlets? Gill, for one, said she might pay to have all kind of topics she's interested in arranged in a Living Stories-like structure. "As a news consumer, I would love to have this interface and be able to say, 'Google, I want you to pull stuff from The New York Times, The Economist, The Financial Times, Science, and give me the stories on global warming in this format from all these sources.' I would love to be able to mix and match. And those of us who want to see contrasting opinions on public policy issues could easily aggregate them in one place."
My Yahoo and other portals offer ways to build-your-own-news page, as Gill is aware, but not like Living Stories, which keeps you from having to leave the main page and offers multimedia content. "I think this is the sort of thing people would be willing to pay for," Gill said.