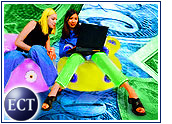 Getting teenagers to buy online should be a snap, right? After all, they have the time, the Web know-how, the disposable income, and a seemingly inexhaustible hunger to consume new products and services.
Instead, many companies are beginning to throw in the towel when it comes to getting adolescents to make a purchase online. The reasons are many, but there may be none bigger than this simple fact: no credit card.
"Not having a credit card does make it an issue for teenagers," Nielsen//NetRatings analyst Kim Pillon told the E-Commerce Times. "The social aspect of shopping and e-commerce (also) doesn't mesh well together. Teens prefer to go to the mall. E-commerce isn't high on their list of something preferred to do."
However, it might be too soon for e-tailers to surrender to the teen e-commerce problem. What follows is an exploration of the attempts companies can make to cap the generation gap and retain teens as a market for e-commerce.
Getting The Points
One way e-tailers attempt to counter the credit card void is with alternative points-based payment programs, such as RocketCash and Visa Buxx.
Visa Buxx offers a prepaid card that is reloadable and targeted squarely at teens. RocketCash, which was recently acquired by Coca-Cola, has a loyalty and incentive program called "RocketFuel Reward points" that can be redeemed for gifts and other free items on a range of participating sites.
"Visa Buxx is well-positioned due to [its] strong brand name recognition with parents, who are an important element of the process to get value stored onto the cards," Yankee analyst Paul Ritter told the E-Commerce Times.
Bottle Rocket?
Ritter added that "the RocketCash model is the one that has the greatest potential, providing incentives for using the technology, extending the technology to wireless devices such as PDAs, and offering Web site building through their partnership with Homestead.com."
However, Pillon said that the success of these programs so far has been marginal at best.
"You may see a few more RocketCashes, but those really haven't taken off," Pillon said. "If you see anything along those lines it will be more contest related — marketing campaigns rather than payment options."
Community Dollars
If teens cannot use credit cards, and alternative payment programs are not quite doing the job, what next?
Ritter said that beyond ensuring that teenagers have the ability to make purchases, online marketers should focus on "providing the type of content teens want (and) offering a place where teens can gather online and communicate regularly with their friends."
In other words, e-tailers should embrace the multichannel universe and use online content to drive branding — even if that branding leads to offline sales.
"A lot of e-tailers are creating sites to push teens to their offline stores," said Pillon. "[E-tailers] are looking towards content sites to put their brand out to teenagers, so that hopefully when [teens] do have a credit card, they'll shop there or push them to shop offline."
King Content
These sites include a wide range of entertainment content, such as the latest news about favorite movie stars, singers, bands or TV heartthrobs, as well as general news and information, beauty tips, and clothing information.
They also include prime socialization outlets, such as chat rooms, discussion boards and instant messaging.
A quick scan of the most popular September sites for ages 12-18, as measured by Nielsen//NetRatings, reveals that this online to offline strategy, at least in traffic rates, is the right idea.
The NetRatings top 12 features clothing and beauty sites (Seventeen.com,Abercrombie.com), sites for customizing chat rooms and messaging services(Coloryourprofyle.com), and the latest sites of boy bands (LinkinPark.com and Nsync.com).
Don't Forget The Parents
"While more difficult to measure than determining conversion rates at an online site, the amount of offline sales that consumer packaged goods firms, apparel companies and music studios can achieve through effective brand promotion to teens at online sites can be staggering," Ritter said.
If e-tailers need any more reasons not to throw in the towel on teens, they should look just down the hall. Where there are teens, there are usually parents.
"Teens also influence the spending done by other members of the household, notably parents, both online and offline," Ritter said. "Companies can't lose sight of this fact when thinking about the online experience offered to teens."