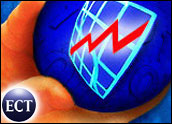 Hit hard by a precipitous drop in sales, beleaguered Internet retailer Buy.com (Nasdaq: BUYX) reported Wednesday thatits first-quarter revenue plummeted 40 percent from the year-ago period andwarned that its second-quarter revenue would see an even deeper decline.
The Aliso Viejo, California-based company said it was concentrating onslashing its losses in a bid to reach profitability.
"Our main focus is to achieve positive operating cash flow by the end of theyear, through reductions in operating expenses and gross marginimprovements," Buy.com chief executive officer Jim Roszak said.
Profit Progress?
Pro-forma net loss for the quarter ended March 31st dropped 60 percent to $10.4 million, or 8 cents per share, from $26.1 million, or 23 cents per share, in the first quarter in2000, according to Buy.com.
"This quarter we established a balance that allowed us to offer ourcustomers a deep selection at great prices, while at the same time makesolid progress towards achieving profitability," Roszak said.
However, factoring in non-cash and restructuring charges, the company showed anet loss of $45.2 million, or 33 cents per share, compared to a loss of$33.9 million, or 28 cents per share, in the year-ago period.
Buy.com said that revenue for the first quarter fell toUS$124.6 million from the $207.6 million posted in the year-ago period.
No Way Back?
Buy.com "has been deteriorating over the past year to a shocking degree,"Morningstar.com analyst David Kathman told the E-Commerce Times.
"One of the things they needed to do was grow really fast," said Kathman."But their revenue has gone into reverse, they've been exiting non-corebusinesses and they've cut costs to the bare bones in order to survive."
While Buy.com said it expected to cut its first-quarter pro forma loss by 50 percent in the second quarter, the e-tailer cautioned that revenue wouldfall off from first-quarter levels.
The company also did not provide any financial guidance for the full year.
Fast Burn
Buy.com may only have a limited amount of time to turn its situation around. The e-tailer said that it burned through $33.7 million duringthe first quarter, leaving only another $33.7 million in cash and marketablesecurities, $20 million of which is restricted under credit obligations.
Kathman noted that in its fourth quarter 2000 financial results, the company's previous management team had estimated it would have between $45 million and $50 million on hand by the end of the first quarter.
"They're burning through cash quicker than they wanted to, and if they runout of money then that's it," Kathman said.
Kathman thinks that it is unlikely that the e-tailer will be able tosecure additional funding in the current market. If it were to do so, he predicted that the funds would likely be "deathspiral funding," which would likely require Buy.com to give away a "hugechunk" of the company in order to survive.
Expense Account
On a positive note, Buy.com said it managed to drive down operating expensesconsiderably, to $29.8 million in the first quarter from $40.6 million inthe same period last year.
The e-tailer said that it achieved this result due to the layoffs of approximately 125 workers in February and an increase inprices for some of its goods.
Meanwhile, the company also said it has improved gross margins to 11.6 percent,up from 6.8 percent in the fourth quarter of 2000.
Problems Mount
Since going public in February 2000, Buy.com has seen its stock price slipsteadily from $35 per share to 58 cents per share in early trading Thursday.
The firm has also weathered an internal shake-up. Last month, it announcedthat two members of its board of directors were leaving.
The departures came on the heels of the resignations of CEOand chairman of the board Gregory Hawkins and chief financialofficer Mitch Hill in March for unspecified reasons.
In the past year, the company has opened — and subsequently closed –e-tail operations in the UK, Canada and Australia. Buy.com also exited the golf business it had acquired when it bought Buygolf.com and closed its sports store.