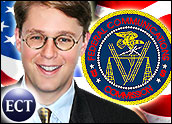 The Federal Communications Commission continues to receive plenty of static from both sides of the television white space debate.
Last month it was Google cofounder Larry Page raising allegations of rigged FCC testing of white spaces prototype devices.
Now, the National Association of Broadcasters claims that FCC chairman Kevin Martin didn't correctly read his own engineers' data when he threw his support behind such devices and scheduled the issue for a Nov. 4 commission vote.
Emergency Request
On Friday, the NAB filed an emergency request for public comment on the issue.
"Simply put, until two days ago, it has been the Commission's practice to adopt rules based on complex data only after allowing the public an opportunity to comment on that data. Failure to provide adequate opportunity for public comment on information so central to the outcome of this proceeding raises serious questions about compliance with the Administrative Procedures Act," the NAB said.
"It would appear that the FCC is misinterpreting the actual data collected by their own engineers," NAB executive vice president Dennis Wharton said. "Basing public policy on an imprecise Cliff Notes version of a 149-page report raises troubling questions."
It's not that simple, said FCC spokesperson Robert Kenny.
"We just received [the NAB's] request and are reviewing it. It is, however, important to note that this proceeding has been open for several years and recently included multiple rounds of testing in the lab and field, which were open to the public and provided all interested parties with ample opportunities to comment and provide input," he told TechNewsWorld.
"The report proves the concept that white spaces can be used for additional, advanced communications services and that spectrum sensing in combination with geo-location and other techniques can be used to authorize equipment today under appropriate technical standards," Kenny continued. "The opportunity is there to get these innovative new devices in the hands of consumers sooner rather than later."
The NAB is asking for more time for public comment on white spaces, the unused area on the broadcasting spectrum that lies between digital television signals. That part of the spectrum could provide space for a national wireless broadband network, and major tech companies like Google and Motorola have been pushing for access to this space so they can provide a new generation of Web devices. But broadcasters claim the new network could interfere with their TV station signals.
Leaving the FCC to Its Own Devices
Four pages in the FCC Office of Engineering and Technology report detail problems with certain kinds of prototype devices that could detect the white space signals on the broadcast spectrum. "Any reasonable analysis of the OET report would conclude that relying solely on spectrum-sensing threatens the viability of clear television reception," Wharton said. "With the transition to digital television looming and tens of millions of TV viewers at risk, the stakes are too high for this proposal to be rammed through without thoughtful deliberation."
During a Wednesday press conference, Martin did say that he would support devices that used a combination of spectrum-sensing and geolocation to sniff out white space signals, and that those devices that use only spectrum-sensing would have to go through another round of FCC testing. He added, though, that there were enough positive findings in the engineering report to proceed with plans for scheduling approval of such devices.
Google's telecommunication and media counsel Richard Whitt welcomed the FCC's qualified endorsement of white space devices during a Wednesday posting on the company's Public Policy Blog.
"This news should be greatly encouraging for American consumers," Whitt wrote. "The FCC now has more than enough information to develop appropriate rules that protect TV stations and wireless microphone users from harmful interference, while at the same time allowing innovators and entrepreneurs to develop technology that productively uses these airwaves."
"I think the report from the agency is a bellwether moment," Ben Scott, policy director for Free Press, told the E-Commerce Times. Free Press is the public advocacy umbrella group for Internet for Everyone, a initiative calling for a national broadband policy. "Science has finally caught up to policy. What we have wanted in public policy is to use the airwaves more efficiently, and that is now being endorsed."
Yet the technical issues surrounding potential interference with broadcast signals could result in the FCC limiting the range and power of any government-approved devices.
"If the NAB is successful, the promise of white space could be crippled or destroyed," Scott said. "That would be a tragedy, not just for the billions of dollars of investment that we desperately need in the economy, but also for the millions of Americans who don't have access or can't afford access to the Internet who would benefit greatly from a cheaper and more ubiquitous platform."