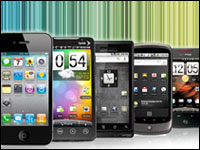 Smartphones have long offered capabilities feature phones don't, but on Wednesday it became clear that global sales are now another dimension on which they excel.
Specifically, smartphone sales surpassed feature phone sales in the worldwide market for the first time in the second quarter of 2013, Gartner reported, reaching 225 million units compared with feature phones' 210 million.
For smartphones, that figure represents a 46.5 percent increase over Q2 of 2012; for feature phones, it's a 21 percent decrease from sales the year before.
"Smartphones accounted for 51.8 percent of mobile phone sales in the second quarter of 2013, resulting in smartphone sales surpassing feature phone sales for the first time," said Anshul Gupta, principal research analyst at Gartner.
According to Gartner's report, worldwide mobile phone sales reached 435 million units last quarter, marking a 3.6 percent increase over the same period last year. Asia/Pacific, Latin America and Eastern Europe exhibited the highest smartphone growth rates of 74.1 percent, 55.7 percent and 31.6 percent, respectively.
Samsung in the Lead
Android powers the largest number of smartphones on a global level. Out of units sold in the second quarter of this year, 178 million units run the Android operating system — that's a 79 percent market share, up from 64.2 percent of the market for the same period the previous year.
Apple's iOS, on the other hand, ran on 32 million of the smartphone units sold last quarter, garnering a 14.2 percent market share, compared with 18.8 percent of the devices sold for the same quarter in 2012.
Windows Phone, meanwhile, moved up to third place in terms of smartphone sales, with 7 million units sold last quarter.
As for manufacturers, Samsung sold 71 million units, for a 31.7 percent market share, while Apple sold 32 million units, accounting for 14.2 percent of the market. LG Electronics sold 11 million units, representing a 5.1 percent share of the smartphones sold in the second quarter this year.
Spotlight on Emerging Markets
While smartphones have reached a majority throughout developed markets in the U.S. and Europe, it is in emerging markets such as the Asia/Pacific region, Latin America and Eastern Europe where smartphones are starting to gain traction.
"It's showing that the balance is shifting thanks to aggressive average selling prices," Carolina Milanesi, research vice president at Gartner, told the E-Commerce Times. "It does not necessarily show a change in behavior as, at the end of the day, consumers use low-end smartphones in the same way they use feature phones.
Smartphones were once just in the pockets of the elite. However as the market matures, the category has expanded to serve multiple segments.
"You have dozens of manufacturers selling at every price point and every feature combination," Roger Entner, principal analyst at Recon Analytics, told the E-Commerce Times. "Choice wins in the end. If you give people the ability to choose, people will take advantage of that."
In fact, handset manufacturers are starting to make models that target consumers in developing markets. Some, for instance, are built with pared-down feature sets in order to meet price points.
"People in emerging countries have the same interests, the same passions, the same preferences, they just have less money," said Entner. "If you are able to provide these devices at a lower cost, they will chose them. It's a superior value proposition."
Indeed, smartphones are already pervasive in Latin America, Eastern Europe and Asia Pacific, Milanesi noted.
"Local brands but also tier one players such as Samsung, Nokia and LG have been catering to these markets for years," she pointed out.
'They Are Picking Android'
Apple, of course, maintains its second-place spot by fostering customer loyalty.
"Apple is a little bit like the Ford Model T," said Entner. "You can have it in every color as long as it's black."
Its challenge, though, may be reaching feature phone users.
"Not a lot of people are defecting from the iPhone," Entner noted, "but for somebody that has never had a smartphone, they are more often picking Android."