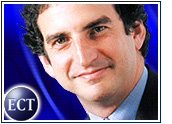 Blue Martini Software (Nasdaq: BLUE) dropped 38 U.S. cents to $2.19 in morning trading Friday, after lowering its outlook for the first quarter ending March 31st and announcing plans to cut jobs.
"The economic slowdown and the uncertain business climate in the industrieswe target has resulted in the closure of fewer licensing contracts during thequarter than previously anticipated," said president and chief executiveofficer Monte Zweben.
Blue Martini said it will take a charge of $1 million to $2 million tofirst-quarter results to cover severance and other costs associated withrestructuring its operations. The company did not say how many jobs it wouldcut.
The San Mateo, California-based maker of customer relationship management(CRM) software said it expects a loss for the first quarter of 22 to 25cents per share, before restructuring charges, on revenue of $19 to $21million. Analysts reportedly were expecting a loss of about 9 cents pershare.
"While we believe that Blue Martini Software and its suite of applicationsare well positioned for long-term success in the global e-CRM market, thecurrent uncertain and volatile economic conditions are causing prospectivecustomers to delay and re-evaluate their IT projects," Zweben said. "Inlight of these conditions, we have made the difficult but necessary decisionto scale back our expansion plans and reduce staffing from current levels."
Blue Martini went public last July at $20 a share and soared to a 52-week high of $77.62 a month later.