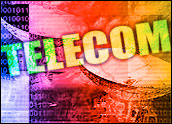 A new teleommunications reform bill which would create a market-oriented regulatory system — treating Internet telephony the same as conventional phone service — is moving through Congress, experts tell the E-Commerce Times.
The bill is sponsored by Senator Jim DeMint (R-S.C.). According to a statement from the senator, the Digital Age Communications Act, or DACA, would regulate telecommunications "like any other industry," protecting consumers and restricting "unfair" competition.
Same Regulations
What's more, the bill treats all telecom services that are alike from the consumer's perspective the same, including VoIP. That means all providers of phone services, whether over wireline, wireless, or cable, would have to comply with the same regulations.
The bill would, moreover, force all service providers to contribute equally to the universal service fund (USF) which subsidizes telephone service in rural areas that are not commercially viable for many phone companies. The bill would also phase out cable franchises in four years, opening the cable market to competition.
The bill demonstrates the growing momentum in Congress to update the 1996 Telecommunications Act, experts said.
According to Steven Titsch, senior fellow, IT and telecom policy for The Heartland Institute, a 21-year-old nonprofit research organization based in Chicago, the act represents Congress' best and soundest approach to federal and state telecom policy reform so far.
"Rather than attempt to shoehorn regulations designed for an era of monopoly phone service to fit a competitive market for integrated broadband services, DACA is a ground-up restructuring of the regulatory regime. It calls for a single, unified, minimally pervasive approach to telecom regulation," Titsch told the E-Commerce Times in an e-mail.
A Bold Approach?
Furthermore, Titsch said, the DACA is by far the boldest among the telecommunications bills introduced in Congress. "Yet ironically, it is also the simplest. It seeks neither to shackle service providers nor coddle them. The bill respects market forces and does not assume that, to create opportunities for one group, the government must penalize others," he said.
There was opposition to the measure, however.
The United States Telecom Association (USTelecom) vociferously objected to the bill. A statement by senior vice president for government and regulatory affairs Ed Merlis said that "we are gravely concerned by its universal service provisions that would reduce and cap the Fund and abdicate responsibility for this important program to the states."
Until now, Congress has considered services running over Internet Protocol (IP) networks to be "information" rather than "communications" services, and exempted them from regulations and taxes it has imposed on conventional telecom businesses.
Some industry leaders worry that treating VoIP as an ordinary phone service, if it ends such exemption, could harm innovation and growth in IP services.