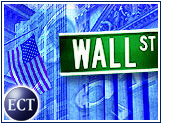 Beyond.com (Nasdaq: BYND) fell 3/32 to3/8 Tuesday after Prudential Securities downgraded the issue to sell fromhold, a rare occurrence in the ratings game.
The downgrade reflects concerns about the company's ability to gainfinancing, Prudential said in a research note. A recent commitment for a US$40million cash infusion may not be available to the company if its stock priceremains at current levels, and if no alternative funding is found, thecompany may run out of cash in the first quarter of next year, the firmwarned.
Beyond.com has said it expects to turn a profit in the first quarter of2002.
On October 31st, Beyond.com said it had received a commitment from anunidentified private investment fund to provide as much as $40 million infinancing to help it meet capital expenditures and working capital needs.The cost of the financing is to be determined based on the weighted averageprice of the company's shares.
The Santa Clara, California-based company said the one-year agreement couldbe extended at its own discretion. Drawdowns under the financing agreementare subject to conditions including the filing of a registration statementwith the U.S. Securities and Exchange Commission, the company said.
Beyond.com reported third-quarter revenue of $29.1 million, as its lossbefore items narrowed to $9.9 million, or 26 cents per share, from $11.1million, or 29 cents, in the year-earlier quarter. President and chiefexecutive officer Ronald Smith attributed the improvement to the company's"transitioning" to e-commerce services from e-tailing.
Beyond.com builds and manages Web sites for businesses.